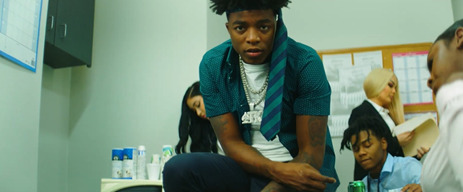 Check out the latest from Yungeen Ace, who just released his latest visual and single, "Who  Is Y'all." A regular office setting is turned into Yungeen Ace's fun house as he and his friends begin to turn up. From the breakroom to dealing with supervisors, Ace portrays his ideal work/life balance in this new video.
Since releasing his latest project Don Dada in June, Ace has continued to provide fans with gut-wrenching, story-telling rap as well as party bangers. His last release, "Ain't The Type," saw Ace and his friends out on a night on the town, while his release prior, "Withdraw From Life," materialized the guilt around being alive and thriving when those around are incarcerated or no longer alive.   
Ace has built his massive following through his authentic music and raw lyricism, turning to music to make sense of his pain. In June of 2018, he released his debut full length project Life of Betrayal, which he shortly followed up with Life I'm Livin'. 2019 also saw the release of Can't Speak On It, a joint project with JayDaYoungan, and the EP Chloe, a passionate collection of tracks written and recorded for his girlfriend, as well as a performance at Rolling Loud Miami. Over the course of two years, Ace's catalog has pulled in well over 500 million streams.
Ace's story is chronicled in the documentary Through the Pain, which follows Ace on his journey to stardom while dealing with grief and pain. The documentary has racked up over 1.3 million views since its release.
© 2020, Seth Barmash. All rights reserved.