THE QUEEN IS Back 3/20
 Album cover for "Alicia"
So, it seems like just a few years ago we were first blown away by the 2001 rising R&B, soul icon. However, 19 years of excellence have flown by, and the R&B queen has just announced the upcoming release of her latest project. Selling 235,000 copies of her first album "Song in Minor" within the first week of its release placed Alicia Keys on the map. only to follow with her 2003 release "The Diary of Alicia Keys", which led to a five time Grammy Award winning album, with 6.2 million copies sold. The album not only sky rocketed due to the sound and undeniable talent of Ms. Keys but the popularity of the R&B genre of the early 2000's. Alicia was quickly Becoming the largest selling female artist with 618,000 her first week (via rollingstone.com). We are anxious to see what records she will be breaking in march. Not only did she out sell, out sing and out smart her competition with recent announcements of her album release she's outlasted a lot of the big names of the early 2000's. The american idol Ruben Studdard, pop start Brittany Spears, Josh Gorban, Toby kieth and HipHop duo Outkast, while a few of the other top 10s she beat out to hold the number one spot. 2007 "No One" from the album "As I Am" peaked number 1 and charted for 39 weeks helping her resume to 4 No. 1 hits and 9 Top 10 hits via Billboard.com
NEW VIDEO ALERT
Staying consistent Alicia then dropped the following albums, In 2009 "Element of Freedom",  2012 "Girl on Fire",  2016 "Here". I won't bore you with any more statistics its pretty clear that another classic album is on the way. "The Queen Is Back" and ready to put her vocals back into the ocean of music waves this march.The album announcement comes in the wake of her new single, "Underdog," which was released earlier this month. Last year, Keys shared two additional new songs, "Time Machine"and "Show Me Love," a duet with Miguel (a full trackless for ALICIA has yet to be released). (via rolling stone.com)
(insider Tierra Wack can be spotted in Alicia "Time Machine" music video)
Along with the drop of her new project tour dates have been released! Keys will kick off her world tour in support of ALICIA in June with a European run, while the North American leg gets underway July 28th at Daily's Place in Jacksonville, Florida. The tour will stretch through the rest of the summer, wrapping September 22nd at the Hard Rock Live Arena in Miami. Per a press release, the ALICIA tour will provide "a special multi-media, artistic experience… A mediation on love and life, the show will be a true celebration, filled with magnetic energy that only live music can create."

Alicia here holding hands of her husband and super producer Swizz Beats
Alicia keys announced earlier on social media today that her album "ALICIA" will be dropping March 20, 2020! No details on production have been released, but I'm sure husband, super star producer Swizz Beats wouldn't crown it "The best of the best hands down" as commented on Alicias instagram post of what we believe is the album cover as seen below. Make sure y'all look out for this soon to be Timeless project being release under RCA Records.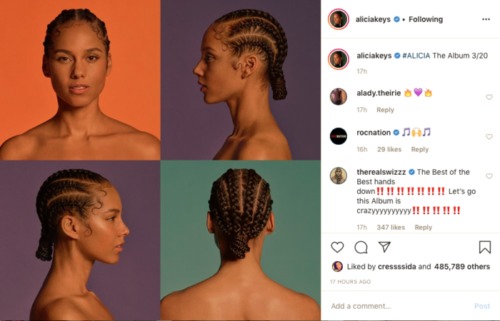 Album release post via Instagram
© 2020, Wilde Tuna. All rights reserved.