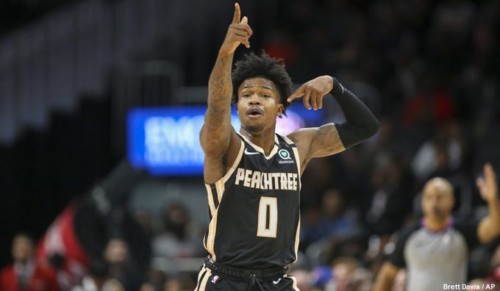 The Atlanta Hawks have signed guard Brandon Goodwin to a multi-year contract, it was announced today.
Goodwin, originally signed by the Hawks to a two-way contract on Aug. 6, 2019, has appeared in 25 games (one start) with Atlanta, averaging 6.9 points, 2.4 rebounds and 1.6 assists in 13.6 minutes.
On Dec. 30 at Orlando, he put up a career-best 21 points (7-11 FGs, 3-4 3FGs, 4-4 FTs) off the bench, adding six assists, three rebounds, two steals and a block in 22 minutes, helping lead the Hawks to a 101-93 win. In Atlanta's 102-95 home win over the LA Clippers at State Farm Arena on Jan. 22, Goodwin scored 12 of his 19 points in the final period, also totaling three rebounds and three assists in 20 minutes (6-14 FGs, 3-4 3FGs, 4-4 FTs). He equaled his career-best (21 points), also contributing four assists, two rebounds and a block in 28 minutes on Feb. 7 off the bench at Boston (7-15 FGs, 3-9 3FGs, 4-4 FTs).
In 17 contests (16 starts) with the College Park Skyhawks of the NBA G League, Goodwin has averaged 19.1 points, 7.8 assists, 6.1 rebounds and 1.6 steals in 34.5 minutes (.441 FG%, .396 3FG%). On Feb. 10, he was named to the Eastern Conference Midseason All-NBA G League Team. Goodwin recorded the first triple-double in Skyhawks franchise history on Dec. 13, 2019, when he put up 36 points, 18 assists and 13 rebounds in a win at Greensboro.
He appeared in 16 games during 2018-19 with the Denver Nuggets, averaging 1.4 points in 3.6 minutes. In 26 games (25 starts) between the Iowa Wolves and the Memphis Hustle of the NBA G League last season, he averaged 22.0 points, 7.0 rebounds, 5.3 assists and 1.6 steals in 36.8 minutes (.490 FG%, .379 3FG%, .724 FT%).
He originally signed with the Memphis Grizzlies on September 4, 2018 and was waived on October 13, 2018. Goodwin signed with the Nuggets on November 29, 2018 and was waived on December 10, 2018. On December 16, 2018, he signed a two-way contract with the Nuggets.
Goodwin played two seasons at Florida Gulf Coast University (2016-18) after spending his first two collegiate seasons at the University of Central Florida (2013-15). He appeared in 126 games (106 starts) during his collegiate career and averaged 13.1 points, 4.1 rebounds, 3.8 assists and 1.1 steals in 28.8 minutes (.474 FG%, .301 3FG%, .716 FT%). He was named the 2013 Georgia 6A Player of the Year after leading Norcross (GA) High School to the state championship and a 27-6 record.
Follow @eldorado2452 on Twitter and Instagram for all your Atlanta Hawks, NBA and sports news.
© 2020, Eldorado2452. All rights reserved.