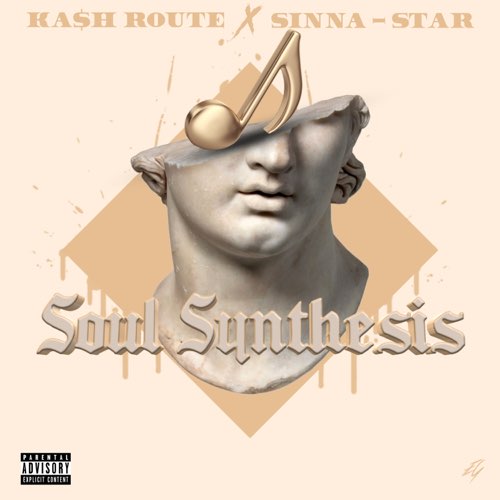 The Highly Anticipated 20 Track Studio Album "Soul Synthesis", released July 11th, was inspired by The Golden Era of Hip-Hop. This is a representation displaying the new style of real Underground Rap, bringing creative, soulful, and raw vibes above ground to the masses. This extravagant & epic project is a well-produced, excellently written, beautifully composed masterpiece. Staying true to the culture of hip-hop music in its most organic form.
Ka$h Route & Sinna Star have been Composing, Recording, Writing & Performing music for their whole lives. "Music is our existence" 24hrs -7 days a week. 365 days a year. They have been Living & Breathing the musician life and not just doing it as a job, for money or for fame, but for the love of the music. The Synthesis is Soulful Hip-Hop artistry at its best, that's just plain refreshing for the Mind & Ears.
Both of these extremely dedicated musicians are born in 1988 and raised in the DMV. Also went to junior high together and playing basketball in the same league prior. Releasing Singles, Albums, Mixtapes, Clothing & Videos from their own separate musical groups. This Jazzy Boom Bap Colab "Soul Synthesis" is two of DMV's Most Solidified Musicians,  Ka$h Route & Sinna-Star.  Joining up together on this project to give the music community a timeless LP.  It was only a matter of time that their souls would eventually collide for the construction of this new release. It seems fate has finally put this brilliant creation into existence.
A new perspective of current situations & life from memories seen from their impactful eyes put on display like an art exhibit with the perfect words & music to match. Featuring Tracks With Artist's Such As The Game, Fat Joe, KRS-ONE, Breana Marin, Memory, Nas,  Natural E, Anna Taylor, Trizzy Trauma & The Notorious B.I.G. This is original and influential Music. Written, Recorded, Mixed & Mastered at Kash Route Productions Studios, (Chantilly, VA), Cue Studios (Falls Church, VA), BIAS Studios (Springfield, VA) Mix Master Pro Studios (Burke, VA)
Released Via Kash Route Productions LLC. Independent Record Label & Publishing Entity. All Rights Reserved. Copyright 2020. This Project is Just Raw Rap, Keeping it Real & Never Faking The Funk. Staying True.
© 2020, Seth Barmash. All rights reserved.