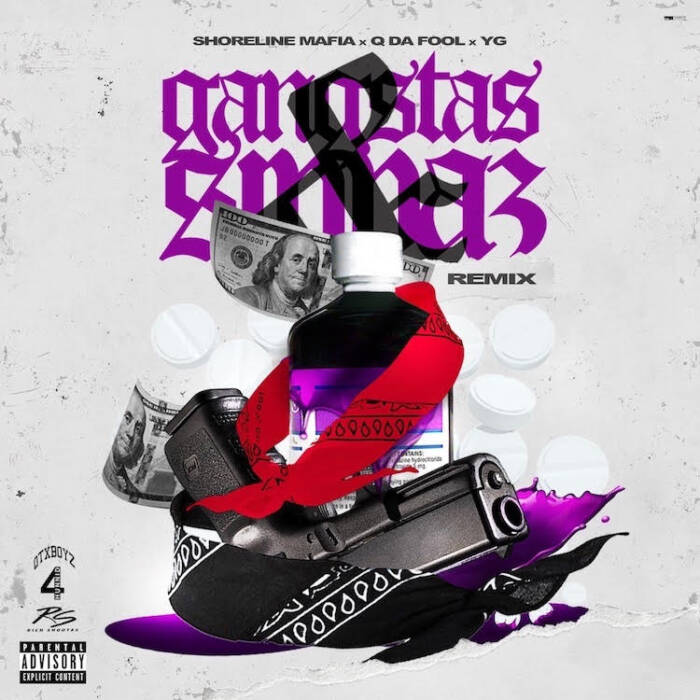 Shoreline Mafia invites YG to throw down on their latest anthem "Gangstas & Sippas" (Remix) ft. YG & Q Da Fool. Bursting through the golden gates of LA rap's elite, YG swoops down with acrobatic rhymes and a mission to clean house on Rodeo Drive – because YG wants it all. Complete with Fenix Flexin's infectiously crafty hook and slick verses from OhGeesy and Q Da Fool, "Gangstas & Sippas" (Remix) is peak LA party bop. It's the ultimate in a new genre that I'm calling 'club quarantine.'
The "Gangstas & Sippas" (Remix) is the latest release in the lead-up to Mafia Bidness, the collective's forthcoming debut album. Earlier this week, Shoreline invited eager fans to create their own cover art for the upcoming album, highlighting some of the best examples on their Instagram. Last month, Rob Vicious shared his new mixtape Breakthrough, which featured production from Three 6 Mafia's DJ Paul and a guest appearance from Fenix Flexin. Fenix is currently preparing to release his first solo project later this year.
© 2020, Seth "Digital Crates" Barmash. All rights reserved.