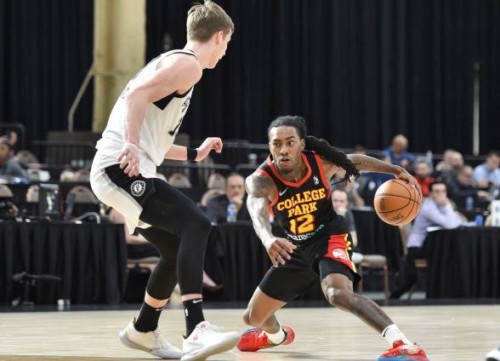 College Park Skyhawks guard Anthony "Cat" Barber has been named the NBA G League Player of the Week for games played Jan. 27- Feb. 2, the league announced today.
Barber (NC State) led the Skyhawks to a 2-1 record on the road last week, with wins over Rio Grande Valley and the Conference-leading Wisconsin Herd on Jan. 28 and 30. In Jan. 26's loss to Texas, Barber led all scorers with 32 points before scoring 13 points and handing out nine assists in the Jan. 28 win against Rio Grande Valley. On Jan. 30, he scored a season-high 33 points on 4-6 shooting from beyond the arc to help College Park top Wisconsin, adding nine rebounds and seven assists in the win.
Through 28 games (10 starts) with the Skyhawks, Barber has averaged 16.9 points on 48.3% shooting from the field, 6.1 assists (tied for 10th in the league), 3.9 rebounds and 1.1 steals in 30.4 minutes per game. He is the first player in Skyhawks franchise history to garner the award.
The Skyhawks, 17-15, return home to take on the Delaware Blue Coats on Feb. 7. Tip-off is scheduled for 7 p.m. at the Gateway Center Arena @ College Park. For more information on the Skyhawks inaugural season and to register for updates, please visit CPSkyhawks.com. Stay up to date on team news by following @CPSkyhawks on Twitter and Instagram.
Follow @eldorado2452 on Twitter and Instagram for all your College Park Skyhawks, Atlanta Hawks, NBA and sports news.
© 2020, Eldorado2452. All rights reserved.