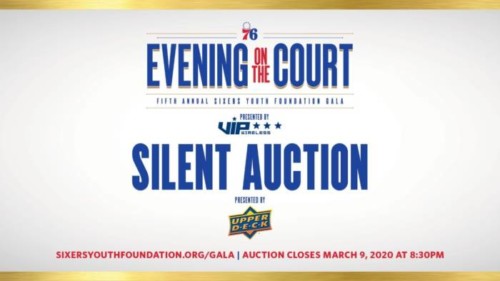 The Philadelphia 76ers announced today details for its fifth annual Sixers Youth Foundation Gala, presented by VIP Wireless, on Monday, March 9, 2020 at 2300 Arena (2300 S Swanson St, Philadelphia, PA 19148). Proceeds from the event will support the Sixers Youth Foundation, a 501(c)(3) nonprofit organization committed to bringing positive, meaningful change to the lives of young people in the Greater Delaware Valley. This year's Gala will raise more than $1 million for the third consecutive year.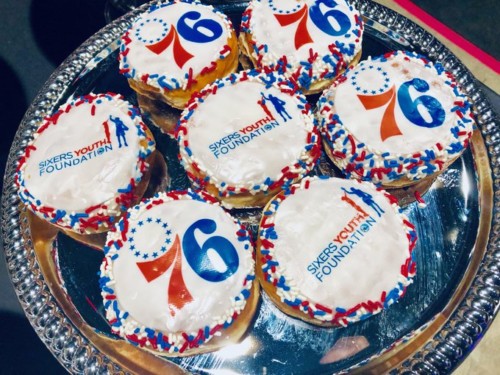 For the past five years, the Gala has provided top-of-the line entertainment, including musical acts, to its guests, and this year will feature six-time GRAMMY Award-winning artist T-Pain. The Florida native last year won the first season of The Masked Singer on Fox, edging out Donny Osmond and Gladys Knight. Among his many accomplishments, T-Pain earned GRAMMY Awards for "Blame It" alongside Jamie Foxx and "Good Life" with Kanye West, as well as BET Awards for the same tracks. Three of his six studio albums are RIAA certified gold, while his 2007 project, "Epiphany" hit number-one on the Billboard 200 and "Thr33 Ringz," peaked at No. 4 in 2008.
"The Sixers Youth Foundation harnesses the power of sports and entertainment to support and inspire youth across the Greater Philadelphia Area. We are excited to celebrate the foundation and the work it does on March 9 at our annual Gala. By bringing together a group incredible people who are motivated and dedicated to helping our youth in need, we're able to build and expand programs in our communities, as well as shape, mold and mentor the future leaders of tomorrow," said Marjorie Harris, Chair of the Sixers Youth Foundation.
"The Sixers Youth Foundation Gala is my favorite event each season and we're thrilled to host it for the fifth consecutive year. It is truly a one-of-a-kind event. It brings together our players, alumni, fans, season ticket members, friends and partners of the organization in a special atmosphere to raise money to benefit youth in the Greater Philadelphia Area," Philadelphia 76ers President Chris Heck said. "The Gala is relaxed and fun, while the food and entertainment are always fantastic. It's the perfect setting to come together as a team and city to drive positive change through the power of basketball."
Fans can support the Sixers Youth Foundation through the team's online auction, featuring once-in-a-lifetime experiences and signed sport and celebrity memorabilia, including items autographed by 76ers stars past (Julius "Dr. J" Erving, Charles Barkley and more) and present (Joel Embiid, Ben Simmons and more). The Sixers Youth Foundation Silent Auction, presented by Upper Deck, went live today, and fans can bid on several items by visiting SixersYouthFoundation.org/Gala. All items and experiences are available for bidding through March 9 at 8:30 p.m., and several will be on display at the Gala itself.
The lounge-style, star-studded gala, "Evening on the Court," will be attended by 76ers legends Allen Iverson and Julius "Dr. J" Erving, current Philadelphia 76ers players and coaches, celebrities and more. 76ers ENT, including Squad 76 and Sixers Stixers, presented by Planet Fitness and mascot Franklin will perform throughout the evening. Attendee dress for the Gala is casual-chic.
Speed-painter David Garibaldi, who has performed at halftime of past 76ers homes games and 76ers Crossover: Art Exhibition, presented by Reebok, will also appear at this year's Gala. Last year, he painted imagery of Iverson and Erving, as the pieces were eventually auctioned off in support of the Sixers Youth Foundation. He will again be painting Iverson and Erving, while separately depicting two current 76ers. Garibaldi has been featured on numerous television shows, including The Today Show on NBC as well as ESPN, and was featured on the seventh season of NBC's America's Got Talent, reaching the finals. Media interested in downloading photos of Garibaldi may click HERE.
"We are extremely pleased to be back for the fourth consecutive year as the presenting sponsor of the Sixers Youth Foundation Gala," said Jack Huston, Founder and CEO of VIP Wireless. "It truly is an honor to be part of such a transformative night that supports the incredible youth in our local neighborhoods. We look forward to this event every year as it brings together some of our area's most impactful figures all to uplift our communities."
For more information on the Sixers Youth Foundation and the 2020 Gala, or to purchase tickets, go to www.SixersYouthFoundation.org/Gala. The event is underwritten in part by the managing partners and limited partners of Harris Blitzer Sports & Entertainment and presented by VIP Wireless.
Follow @eldorado2452 on Twitter and Instagram for all your Philadelphia 76ers, NBA and sports news.
© 2020, Eldorado2452. All rights reserved.