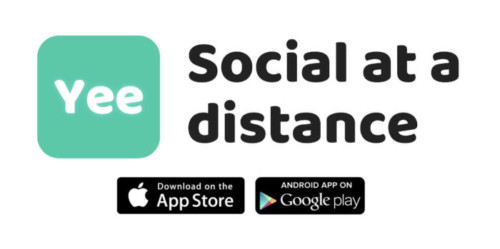 The coronavirus quarantine has people all over the world stuck at home and feeling the negative effects of social isolation. To help combat feelings of anxiety, depression, and boredom, gen z and celebs alike have taken to new social app Yee to talk with new people face-to-face, virtually via video chat.
Yee uses an algorithm to instantly connect you with new people via video calls and texting – allowing influencers and music artists like rapper Trippieredd, rapper Lil Pump, and TikTok star Addison Rae to discreetly and spontaneously have face-to-face chats with unsuspecting fans from the comfort of their homes – allowing their fans to screenshot and share on social media to remember this unexpected and positive moment.
Yee was started by a young team in Los Angeles in response to the coronavirus pandemic. With social distancing sweeping the nation, the team saw a need to create a space where you could meet new people and make new friends – virtually. Although it launched in early April, Yee – Social at a Distance, has already hit the charts and is trending in both the iOS and Google Play App Stores.
Actress and singer @blasianbabylola says the Yee app has helped her mental health, saying, "it's relieved the social isolation that's going on. Communicating with different people from all over the world affects my mood in a positive way." According to model and influencer @arlyespinal, "Going on Yee you get to see how other people are dealing with the quarantine so you sorta just feel less alone". Similarly, influencer @kevchino says "Yee has helped me stay connected with my viewers and fans during this time of quarantine like no other app!"



Since the quarantine is happening in 2020 and live video streaming is the norm, Yee provides a safe and fun experience by using the latest advancements in live video chat technology and safety moderation. With the option to go on solo or invite your friends to go on in a group, Gen Z'ers say having that virtual face time with new people on Yee has helped them get through the quarantine. Influencers say using Yee lets them stay connected with fans in a more impactful way by bringing positivity during these dark times. Download it here: http://yee.chat 
© 2020, Wilde Tuna. All rights reserved.