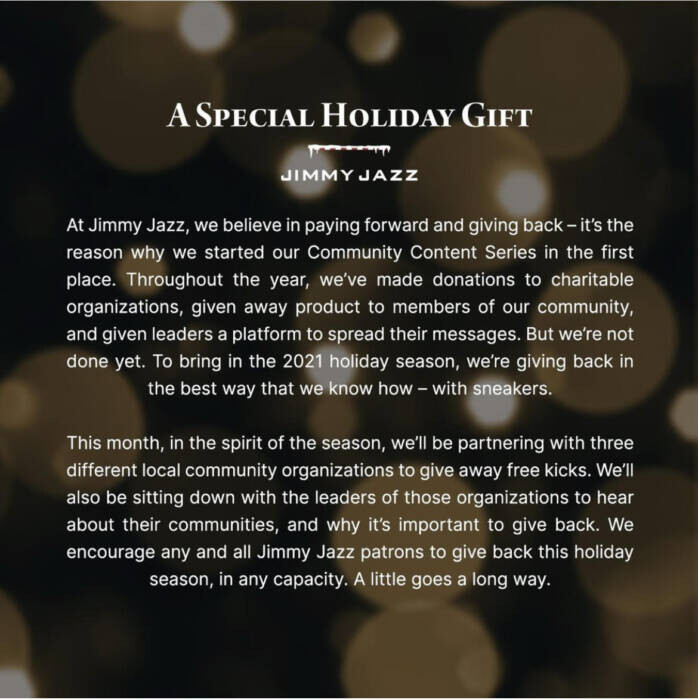 To bring in the 2021 holiday season, Jimmy Jazz is giving back in the best way they know how – with sneakers. Jimmy Jazz believes in paying forward and giving back – it's the reason they started our Community Content Series. Throughout the year, they've made donations to charitable organizations, given away product to members of the community, and given leaders a platform to spread their messages.
This month, in the spirit of the season, Jimmy Jazz is partnering with three different local community organizations across NYC to give away free kicks. They will also be sitting down with the leaders of those organizations to hear about their communities, and why it's important to give back.
Thursday December 16th – Bronx
Nike x Kips Bay Boys & Girls Club Sneaker Giveaway x Winter Wonderland 
550 Balcom Avenue, Bronx , NY 10465
Giving away over 200 pairs of Nike sneakers to kids at the Kips Bay Boys & Girls Club
Will have interactive holiday activities for the kids
Onsite contact: Tee 917-806-1746
Saturday December 18th – Harlem 
Adidas x Take Care of Harlem 
10am-2pm
Giving away Adidas sneakers and toys to over 300 kids in Harlem at PS 137. Students have a chance to meet entertainment mogul Jim Jones.
Onsite contact: Tee 917-806-1746
Sunday December 19th – Harlem 
Puma x RJ Barrett of the NY Knicks 
6pm – 8PM
Will provide 20-30 High School students a chance to meet RJ Barret plus a $250 Jimmy Jazz Gift Card (for puma items) to each student at our Flagship Harlem Store located at 239 West 125th Street
© 2021, Seth "Digital Crates" Barmash. All rights reserved.