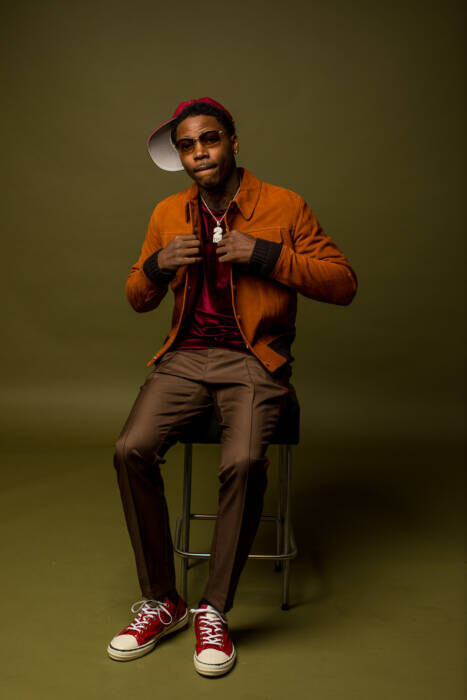 2FeetBino is a family man, first and foremost. He's a rising, star power-attracting lyricist second. These two aspects of his person have combined together to create an intensely focused, unusually magnetic artist who's well on his way to the top. Boldly, with his chin to the air, he describes himself as "the center of the room." 2FeetBino's unique name comes from a creative space and further reflects his ability to reinvent. It's inspired by driving, and then staying "ten toes down," remaining authentic in the face of despair and trouble. It describes his approach to rap and life itself, and is a small piece of the puzzle that makes 2FeetBino who he is. His rap style is complex, realistic, and extremely versatile while his voice stretches and zooms around the wax like some kind of alien symbiote, clinging to the 808s with a death grip. He describes it as a "crossover" style that defies all kinds of labels. And that makes him a staying force that you need to get with.
2FeetBino has just shared his latest video single, "Backstroke." Reposted by 21 Savage, Metro Boomin, and Yung Nudy, "Backstroke" has a laid back summertime feel that's accentuated by floating guitar riffs, delicate keys, and rolling 808s. In the video, 2Feet can be seen lounging on a boat, skateboarding with his crew, and enjoying himself on a sunny summer day, seemingly without a care in the world. His fans will also notice a cameo from his alter ego, Cousin Feeter, the Bill Bellamy inspired muppet who appeared on the single art and in the video for 2FeetBino's previous release, "In Da Spot" (feat. 4L Quan).
2FeetBino made a splash with the release of his Yung Nudy assisted track and video for "No Freestyle" in 2018 and rode the wave into 2019 with the release of his debut mixtape, Broken Dreams. The tape introduced listeners to 2FeetBino's soulful voice and heartfelt storytelling,  drawing them in with his candor and sincerity. The following year, in 2020, 2FeetBino released his project, A Story Never Told which featured the intimately detailed and deeply personal single, "Apple Pie." The song recounts 2FeetBino's struggles as a young father who's witnessed the hardships of life from a young age and hopes to provide a better life for his daughter who is featured in the video. A Story Never told also featured other standout tracks including "Ease the Pain," the motivating anthem, "Keep Goin,""Plenty Sense," and "Rainbow" (feat. Young Nudy and BermudaYae).
© 2021, Seth Barmash. All rights reserved.