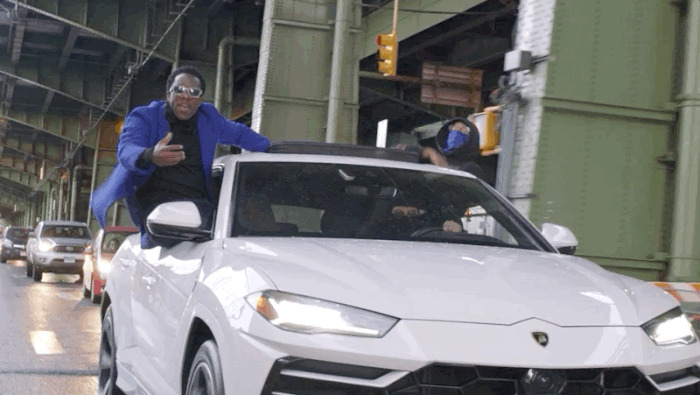 nown for his bone-deep rasp and confident demeanor, Brooklyn rapper DUSTY LOCANE his his borough on his back. Taking a moment to clarify to the fans and the opps what he's all about, DUSTY LOCANE shares the new video for "INTRO 2 ME, PT. 1." Armed with an atmospheric, guitar-heavy, and drum-free instrumental by Jovohn & Sxber, the Canarsie native cuts through the haze with his commanding delivery, alternating between brute force and lilting melody: "Take a step into my shoes, see what I've been proving/The facts of life is that n****s think they winnin' when they losing."
In the video, directed by David Janoff, DUSTY proves that he's the master of his domain, as he cruises under the BQE in his Lambo SUV, posts up with his crew on a street corner, spends time with some Brooklyn baddies, and introduces the world to his adorable pit bull puppies. His third-ever single, "INTRO 2 ME, PT. 1" peaked in the top 10 of Rolling Stone's Trending 25 chart, with nearly 2 million Spotify steams since its release in early January.The video for "INTRO 2 ME, PT. 1" immediately follows up "RUMBLE," a high-energy slice of Brooklyn drill. Produced by BlazinBeatz, the WOO-affiliated rhymer's buzzing single racked up over 1 million Spotify steams in less than 2 weeks.
DUSTY LOCANE burst onto the scene in late 2020 with "R0LLIN N CONTROLLIN FREESTYLE," a furious missive that racked up over 21 million combined plays on YouTube and Spotify and recently started to trend on TikTok (over 100k video creations). His follow-up, "Rolando (Caught In The Rain)," proved that DUSTY LOCANE's success was no fluke, racking up over 1 million YouTube views and 1 million Spotify streams in its first week, earning praise from Pitchfork. Both "ROLLIN & CONTROLLIN" and "Rolando" peaked in the Top 5 of Rolling Stone's Trending 25 chart. With over 8 million on-demand streams in the month of January, DUSTY LOCANE recently made his debut on Rolling Stone's Breakthrough 25 chart at #5.
With more music on the way and the streets of Brooklyn on his back, DUSTY LOCANE is a great bet to reach the next echelon of rap stardom in 2021. Keep an eye on the young rapper as he hurdles towards household name status.
Watch "INTRO 2 ME, PT. 1": https://youtu.be/gjYRvAMzvsw
Buy/Stream "INTRO 2 ME, PT. 1": https://music.empi.re/intro2me
© 2021, Seth "Digital Crates" Barmash. All rights reserved.