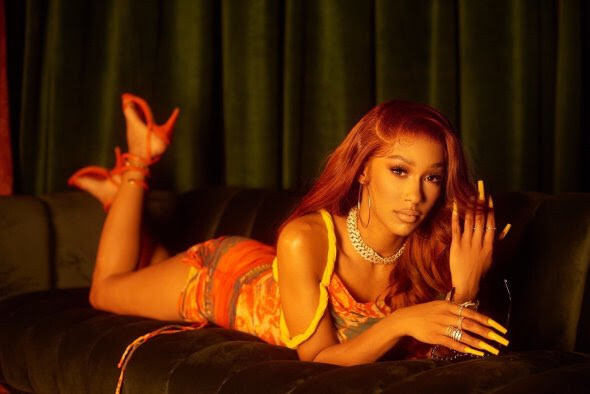 Today, platinum-certified Boston-born and Los Angeles-based rapper BIA uncovers the music video for her latest single "Whole Lotta Money." It notably boasts a cameo from Justin Combs. Watch it HERE. The song remains a standout from her acclaimed 2020 For Certain EP. Listen HERE via Epic Records.
Directed by Ben Marc [Ty Dolla $ign, Trey Songz], the clip features BIA in a series of eye-popping vignettes. PAPER Magazine calls BIA "an absolute financial fatale" in the video as she raps by a fire on a plush vintage green couch, takes over kiddie rides with an equally fly girl gang, and saunters through a bodega with Justin Combs behind the counter counting racks. Flexing in designer head-to-toe, she literally brings the lyrics, "I put on my jewelry just to go to the bodega, and I keep it with me just so that I'm feeling safer," to life. Fittingly, it culminates with bills upon bills raining down in the strip club.
To create the video's series of coveted looks, BIA worked with stylists Grace Butler and Tyrina Lee and styled BIA in designers like Chanel, Fendi, Bottega Veneta, Balenciaga and more.
Tracks from For Certain have cumulatively amassed over 30 million streams and counting. HotNewHipHop ranked it "VERY HOTTTTT," while Complex claimed, "BIA is wrapping up 2020 with a bang." Beyond looks from Nylon, Refinery29, and more, FLAUNT put it best, "Bia's time is now! Hailing from Boston, the rising star has been grinding and putting in the work, creating nothing short of bangers for her growing fanbase."
Stay tuned for more from BIA soon.
ABOUT BIA
Spitting with agile aggression, dropping clever observations, and pouncing like a panther on every beat, BIA rips through rap with a feral intensity. Acclaimed by the likes of Wonderland Magazine and Billboard and also streamed nearly half-a-billion times to date, the platinum-certified Boston-born and Los Angeles-based artist emerges as a fierce, fiery, and focused force.
In 2019, BIA teamed up with Russ for "Best On Earth". Not only did the song achieve platinum certification and reach #46 on the Billboard Hot 100 and #1 on at Radio, but Rihanna also posted a video with "Best On Earth" playing in the background and declared it, "my new fav song." Now, BIA continues her new chapter with EPIC with her latest release "Same Hands" featuring Chicago's own Lil Durk.
BIA was also featured in the Good American Spring 2020 clothing campaign and was the face of the Missguided x Sean John capsule collection for Fall 2020
With new music and partnerships on the horizon, BIA continues to show that 2021 will continue to be her year. Follow BIA on Instagram here
© 2021, Seth Barmash. All rights reserved.