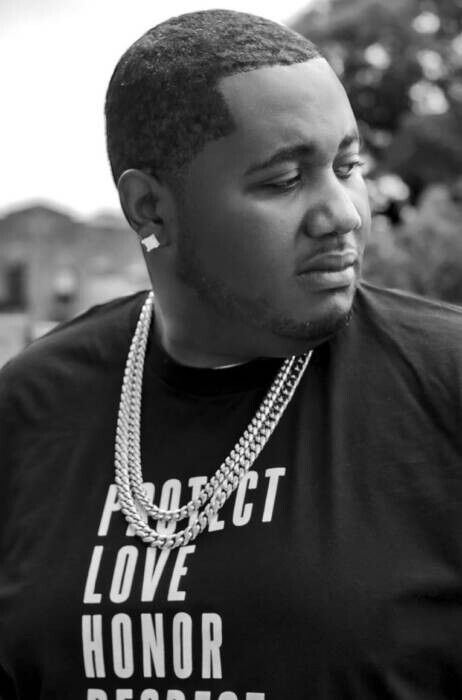 Written by: Kim Coco
Meet A.R. SKIP! The Multi- Talented Hip Hop Artist & BKBXENT Music Executive from The Highbridge section of The Bronx with roots in The ST.CROIX U.S. Virgin Islands that's making headlines again after the recent debut of his latestsingle-entitled "PABLO."The international hip- hop sensation has previously been in the news for his work with mega artists such as, BK Brasco from Love & Hip Hop Atlanta (Season 7), Kevin Webb who placed Fabolous and A Boogie on the map, and reggae sensations Spice Madd, Cobra, and Aidonia, to name a few.
The single which first made its debut earlier this year is presented by BXBKENT and features A.R.SKIP along with artists DGOODE, CHAT RISE and BILLYMAN. The following month after the song's release A.R. SKIP world premiered the official music video for PABLO and almost immediately it began trending YouTube and Social Media.
To date PABLO has garnered close to 60K views on YouTube and has become a hit with fans practically overnight. Months after its release PABLO continues to dominate on the TOP 20 Countdown and trend on the charts. WATCH THE VIDEO BELOW!
As the Bronx artist A.R. SKIP prepares to drop his next 2 singles- FOREPLAY and SHORTY over the next 2 weeks, fans wait patiently for his highly anticipated single DITC featuring RJ PAYNE expected out mid -June.Although fans and critics have seemingly spoken by calling PABLO one of A.R. SKIP's greatest projects to date, the excitement for what's next with his 3 singles continues to grow. STREAM PABLO BELOW!
https://music.youtube.com/watch?v=VXAZZnh81d8&list=RDAMVMVXAZZnh81d8
In January A.R. SKIP made headlines after the world premiere of his music video for his hit song PABLO. The video directed by Miami Film Kings features artists DGOODE, CHAT RISE and BILLYMAN and sets the tone from the start. The video set at an exotic mansion on the coast of Miami Florida, and host a bevy of beautiful woman and exotic cars at an exclusive mansion while the men of Power featured in the video- who we know are A.R. SKIP, DGOODE, CHAT RISE and BILLYMAN enjoy the success of their lifestyle.
A.R. SKIP tells me the lyrics are loosely based on a true story- (he's not in the Cartel but him and his crew ARE well respected and people know their name).The lyrics start off by paying homage to 4 of the most powerful men to ever rule the Cartel.
"PABLO, CHAPO, FRANCO, FRANK LUKE." WATCH THE LYRIC VIDEO BELOW
SKIP who is the main actor in the PABLO video, tells me that when he thought of the creative concept for the music video he knew immediately his vision and how he planned to bring it life.
A.R. SKIP tells me: "I wanted to take it back to the median cartel lifestyle but bring the feeling of Power with a new school twist. Basically the visuals show how we are the creators and the rulers who rank the highest – although the Cartel is just a metaphor to this industry. The video portrays that we are the bosses. It's who we really are. The fans really seemed to love it and it's because of them that PABLO has been such a hit."
It's no surprise that PABLO has reached the level of success that is has seen and there appears to be no stopping in sight. The song made THE TOP 20 with Vivid Streaming so far peaking at number 9.
Since the release of his hit song – A.R. SKIP has been on a non- stop Press Tour interviewing with major Hip Hop Outlets, podcasts and platforms like Industry's Most Wanted, The Progress Report, Ugly Money Podcast, Talk of the Streets, Off the Porch and Miss Fit just to name a few. WATCH HIGHLIGHTS OF A.R. SKIP'S PRESS TOUR BELOW!
After the release of PABLO, the Bronx artist released another hit single – WISHIN. The cover art for that track– which is set in a cemetery gives off a different vibe than PABLO and while the streams continue to rise with WISHIN' the fans seem to love the consistency and unpredictability that SKIP brings to the table as an artist. A.R. SKIP tells me that "Wishin' is a song about the outcome of crossing me and the graveyard is where you'll end up….. It's just a song tho , not to be taking literal." STREAM THE SONG BELOW!
https://songwhip.com/arskip/wishin
A.R. SKIP who is a well -known gifted and unbeatable lyricist that started in the underground music scene in has released more than 20 mixtapes in his career. His music has been heard on the radio on NYC HIP HOP STATION POWER 105.1 with DJ Self, DJ Suave playing his records and Shade 45 with legendary DJ Scram Jones , performed with Reggae Sensations Spice Madd, Cobra, and Aidonis and has grown a fan base all across the map. He has walked the red carpet and is expected to again at 2021 NYC Fashion Week.
Due to all of his success as an artist and while building his brand, A.R. SKIP became a legend in the underground Hip Hop Scene and the GO-TO for advice by rising artists looking to follow in his footsteps. After years of mentoring and guiding indie artists in 2017 A.R. SKIP finally gave the artists what they had been asking for. He launched his company BKBXENT.
BKBXENT – The NYC Based Record Label and Entertainment Company offers the artist a multitude of services including A&R/ Management, Marketing/ Press/ Distribution services/ Studio Access and much more. BKBXENT even has an in house Record Label Studio Access.
SKIP tells me that part of his secret to success is from being an artist himself.
"Because Being an artist and I started as an underground Indi artist with management, I know what it takes to become a successful one. I know how to help elevate someone's career to the next level." Skip also tell me that his BKBXENT is open to signing new artists and is currently accepting submissions. ARTIST SUBMISSIONS CAN BE SENT TO:  [email protected]
A.R. SKIP tells me none of his success is by chance and he considers himself blessed. He credits "God, his mother, brothers and sisters, nieces and nephews, St. Croix, all my fans, point, Amir aka B-Mac, BKBX ENT and last but not lease my Kids Dj and Idaya as his support and driving force."
He also tells me a big part of what he does is return those blessings to others- especially the kids of NYC. He donates his time as a BASKETBALL COACH with TURBO SQUAD. A NON FOR PROFIT Academic Enrichment Program that supports Kids in the NYC area. He also talks about his love for ST. CROIX and his family roots both there and here in NYC. SKIP tells me "Being raised in both NYC and ST CROIX places is a gift, as far as having a West Indian background. Soca music, reggae, music and dancehall music. Infused with Hiphop is like no other. Both cultures have their pros and cons tho. Bronx is more fast paced and St. Croix being a lot more slower. But there's always excitement on any given day both places. Where you translate into your music. I Love my island, I Love my city."
After much success with "PABLO", A.R. SKIP is now preparing to release 2 singles within the next couple of weeks titled, "Foreplay" on MAY 29th followed by"Shorty"on JUNE 4th. He is making sure to keep his fans engaged with his music and content.
On June 11, he is planning to drop yet another song "DITC" featuring the RJ Payne.
"The Rj Payne record is a dope song. We took back to essence of Hiphop on this one. It will out early part June." As fans await his highly anticipated projects, SKIP continues to build BKBXENT and tells me we can expect to see him make his appearance on the big screen in the future.
Be sure to follow A.R. Skip on social media, stream his new single "Pablo", and subscribe to his YouTube channel.
For features, Collaborations, Press & Media Inquiries, Bookings and all things A.R. SKIP
MUSIC: https://songwhip.com/arskip
IG- https://instagram.com/therealarskip
Twitter- https://twitter.com/therealarskip
Facebook-https://www.facebook.com/Arskip26
Website: Therealarskip.com
YOUTUBE: https://www.youtube.com/channel/UCRbvNM_pOvYpJLVQzbRaAng/featured
Management: BKBXENT
Booking info: [email protected] / text or call 347-751-6649
© 2021, @BWyche. All rights reserved.