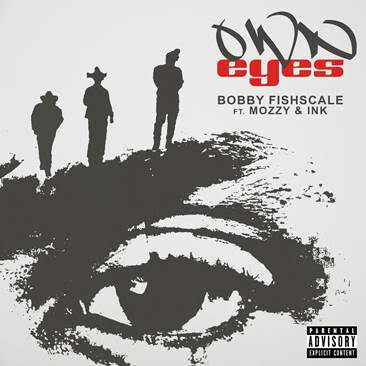 Florida hip-hop artist Bobby Fishscale dropped his newest single release, "Own Eyes" featuring Mozzy and Ink. The new track, which premiered on both BET Jams and BET Hip Hop at 12 AM EST, features nostalgic vocals from singer-songwriter Ink interlaced with Bobby's swift bars woven into each verse. 
The accompanying music video, directed by Ben Marc, blends visuals set in an abandoned warehouse, to a nicotine laced living room, before panning in on a young mother spotted with her newborn. Fans are also swept up in captivating shots of each actor's eyes as the music video transitions from scene to scene. The "Own Eyes" track tells the stories of coming up from a troubled young adulthood. The track forces listeners to reflect on realities many underserved communities face that typically go unnoticed – from dealing with a mother's visitation getting denied to splitting a meager meal just to stay fed. 
·        You can watch the new video for "Own Eyes" HERE and stream the new single HERE via Roc Nation. You can also check out social assets for the new video release HERE.   
"Own eyes to me means to not let others dictate your future," said Bobby Fishscale. "See it with your own eyes."  
"Own Eyes" falls on the heels of the Roc Nation artist's recently released track and music video "Role Models" feat Kalan.FrFr which similarly spotlights the deep inequities and challenges Black and Brown communities face everyday, and tells the powerful story of transformative change role models can bring into the picture.  
Hailing from Quincy, Florida, the rising rap music star has been committed to giving back to his community – from his recent visit to local Shank Middle School which culminated in massive school supply donations, to being honored by Mayor Ronte R. Harris himself with a Key to the City this summer. Bobby Fishscale's growing legacy traverses beyond just the recording industry into entertainment and culture at large. 
Fishscale started making waves with his track "Hov Flow," that sampled JAY-Z and Eminem's "Renegade" beat in 2019, which grabbed attention from popular hip-hop platforms and blogs. His debut mixtape – Big Fish – released that same year – stirred a bidding war among record labels that led to his eventual signing to Roc Nation.  
The project was followed by his mixtape, Super Fishy in April 2020 as well as Da Relapse, a 15-track project that included features from Lunch Money, Lil Quez and Yeezy Walker. That same year, Fishscale released his documentary, A Day In The Bricks, giving the audience an in-depth look into the inspiration behind the Quincy native's trap sound. His hustle and drive earned him the 2020 BMI R&B and Hip Hop Social Star Award, joining the likes of previous winners Mac Miller, Machine Gun Kelly, Zendaya, Joey Bada$$, NLE Choppa and more. His last mixtape, Talapia, dropped in April 2021 and featured appearances from Bigga Rankin, Doe Boy and ATL Jacob.
© 2021, Seth "Digital Crates" Barmash. All rights reserved.