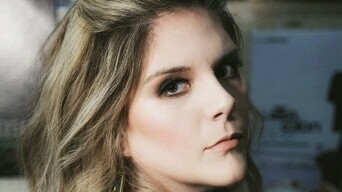 Claudia Lopez turned to what she knows best during challenging times. In 2017 her whole world fell apart when her cousin – who was like a sister to her – passed away. The Miami, Florida-based singer and songwriter used her music to process and grieve, writing songs with no intention of releasing them.
Three years later, at the onset of a global pandemic, Lopez found herself with nothing to do but think and grieve.
"That's when it really clicked for me," Lopez says. "I was going to tell her how much I needed her through music. Like look at this crazy pandemic! I just needed to talk to her so bad. That's when I really decided to put the songs together to tell her everything I haven't been able to tell her."
The result: Lopez's debut album, Running out of Time, which was released this August.
"She was my person, she was my go-to to talk about things, my boy drama, my love life, my heartbreak, and I suddenly didn't have that anymore so I've just been writing the songs, writing about the love and the heartbreak and needing to tell her these things and just writing the songs and putting them in a drawer," Lopez says.
The 10-song project also explores the concept of time; the word itself can be heard many times throughout the album and Lopez says she wished she'd known when she was younger that no matter what happens, the clock keeps ticking.
"Time doesn't stop for you because you're stuck in your head and overthinking something," she says. "The clock keeps ticking. The album is a blend. It's an awareness of time and using it wisely and appreciating time and filling my cousin in on my newfound wiseness, wisdom and everything I didn't get to tell her in the last four years."
There was never a day where Lopez didn't know that music would be a fundamental part of her life. Her father and grandmother are musicians and she's been writing and performing songs since she was just two-years-old. The thought of doing something different never occurred to her.
"I was always told as I was young that I had this big, soulful sound," she says. "My family was always saying where did she come from with this big, soulful sound? How did that happen?"
A proud Cuban-American, she believes her sound is a blend of what she listened to growing up. That includes Celia Cruz, Michael Jackson, Julio Iglesias, Juan Gabriel and Whitney Houston. Christina Aguilera and Beyonce were among her biggest idols.
"I really love R&B and pop music, and as I grew into my voice I realized that's also what I like singing the most," she says. "I have a lot of emotion in my voice and a lot of people were like that's too much, that's too emotional. But as I grew older, I realize it was my super power and the only way I could express myself and the words I was writing."
Her emotional sound is now affecting others. Lopez has received an influx of videos of people crying in their cars to her music. They tell her they've never heard music so emotional and beautiful. And the theme of loss that's present has many others thanking her for writing something so relatable.
"It's not specific to death and to losing someone, it's just losing anything, anyone," Lopez says. "A friend, any separation, longing for something that's not there anymore. I've gotten a lot of feedback saying thank you for writing these words on something I couldn't express until now and that was really my goal. My goal was to give everybody relatable songs and relatable lyrics."
The album's happier, bouncier songs also provide some relief while adding light to the project. She closes out the album with "Woman," a powerful transition from grieving to something strong and secure.
"Woman" was only added at the last minute, right before the album was mixed and mastered. Lopez sat at a piano with a melody in her head and thought about the women in her life and how much stronger they are.
"'Woman' is a tribute to my cousin, her mother, my mother, my grandmother and my sister and all the strong women in my life," she says.
"It's really a journey," Lopez says. "Everybody should listen to it top to bottom so they can hear that journey, a journey to strength."
As Lopez wrote in the album's artwork, no matter what you're healing from or what you lost, "I hope this album gives you comfort, I hope it gives you hope, I hope it gives you strength."
© 2021, Oktane. All rights reserved.