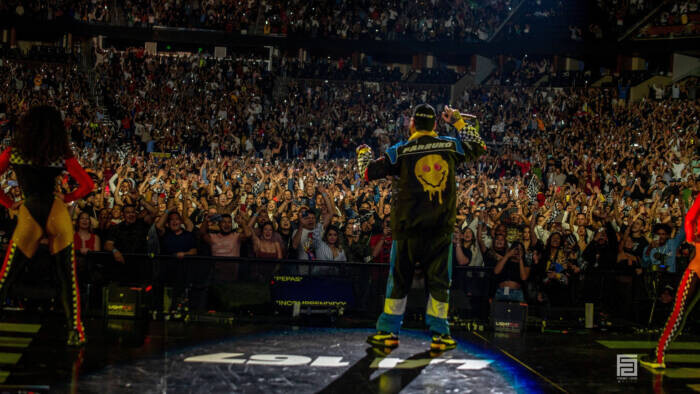 Latin music's most versatile and experimental artist, Farruko, wrapped up the first leg of his first US Arena tour this past Sunday at Orlando's Amway Center to a sold out crowd. This was one of 8 sold out shows on this tour which included stops in California, Colorado, Georgia, Tennessee and Texas. Farruko delivered an electrifying show night after night, giving fans an unforgettable experience and demonstrating why he is one of the most celebrated artists of our time.
This year, the platinum selling artist continues to make history with the release of his critically acclaimed album LA 167 which includes the global phenomenon hit song "PEPAS". Since its debut, "PEPAS" has encountered vastly monumental successes having charted No. 1 on Billboard's "Hot Dance/Electronic Songs" (8 weeks in the top spot), "Hot Latin Songs," "Dance/Electronic Digital Song Sales," "Dance/Electronic Streaming Songs," and "Latin Digital Song Sales" charts. The song was listed at No. 29 on Billboard's Hot 100, currently ranks at No. 5 on Spotify's Global Top 50 chart, and has over 830 million total streams (it has well over 236.9 million views on YouTube alone) and over 3 million daily streams. The recognitions did not stop there. Farruko's LA 167 was included in The New York Times "Best Albums of 2021" list and "PEPAS" was named by Time Magazine as the number 1 song of 2021 and Billboard recognized the global phenomenon song in the Top Ten Hot Latin Songs of 2021.
Farruko hit another milestone with "PEPAS" and was nominated for the 2021 American Music Awards in the "Favorite Latin Song" category. "PEPAS" continues to establish itself as a massive Latin crossover hit with Farruko's late-night TV debut performance on The Tonight Show Starring Jimmy Fallon. Sony Music Latin and Carbon Fiber Music have also awarded the performer with commemorative plaques celebrating the song's global success and the myriad of certifications it has received: Platinum in Argentina, Chile, Colombia, and Mexico; CAC Platinum + Gold; 2X Platinum in Peru; 3X Platinum in Spain; Gold in Italy, Switzerland, and the Netherlands; and 8X Platinum in the United States.
The Puerto Rican multi-Platinum selling artist's success doesn't end with "PEPAS" as his album LA 167 also debuted at No. 1 on Billboard's Top Latin Albums chart. For this album, Farruko felt inspired by the nostalgia of his youth and named the album after the main highway that runs through his hometown of Bayamón, PR. Staying true to his nonconformist approach to music, LA 167 fuses and embodies the eclectic subcultures and genres that have inspired the singer-songwriter throughout his career. As an ode to both Puerto Rico and his late grandfather, the album is nostalgic, festive, vulnerable, and full of pride for the Urbano pioneer's heritage. LA 167 features 25 expansive and unrivaled tracks that coalesce perreo beats, "pilita" (the EDM sounds popularized by the Dominican Republic), and reggae.
Farruko's hit anthem "La Tóxica" also finds a home on the new album. "La Tóxica" debuted in the top 10 of  Billboard's "Latin Digital Song Sales" list, in the top 15 of "Hot Latin Songs," peaked at No. 1 in nine countries, No. 1 on Billboard's Hot Latin Songs and Latin Streaming Songs, and scored him a 2021 Latin GRAMMY® nomination in the "Best Reggaeton Performance" category. Most recently the singer-songwriter released the video for his song "Amigos Nuevos No" with Fresy Franklin, which is also part of the album. The album also sees Farruko team up with Ñengo Flow, Myke Towers, Jay Wheeler, Brray, Secreto, Noriel, Luar, White Star, India Martinez, Lenier, Jamaican dancehall singer Mavado, and repeat collaborator Pedro Capó, who worked with the performer in 2019 for the 25x Platinum hit "Calma." In February 2022 Farruko will kick off the second les of his tour starting at his nativo Puerto Rico. He hit a career milestone and made history by selling out Puerto Rico's renowned Coliseo arena during a presale for 2 nights for his upcoming homecoming shows of "LA 167 Tour" on February 4 and 5th, 2022.
Watch "Amigos Nuevos No" ft. Fresy Franklin: https://youtu.be/xZofUAyzwXQ
© 2021, Seth Barmash. All rights reserved.