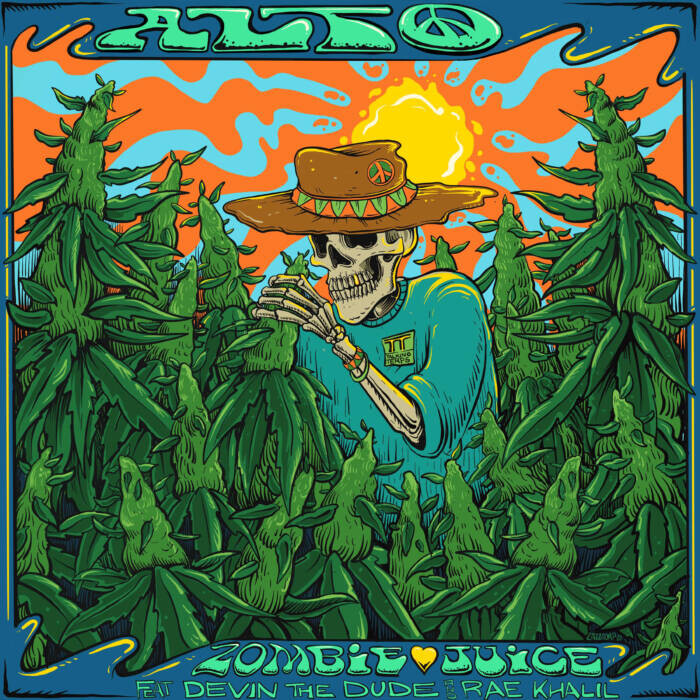 Well known as a member of Flatbush Zombies and Beast Coast, Brooklyn's Zombie 
Juice is ready to strike out on his own. Indulging in one of his favorite pastimes with a fellow cannabis connoisseur, Juice shares "Alto," his new single featuring Devin The Dude and Rae Khalil. While the beat–produced by Zombie Juice's Flatbush Zombies associate Erick The Architect–might be hazy, complete with woozy guitars that shift in and out of key, Zombie 
Juice and Devin's thoughts are clear, as they drop crisp pearls of wisdom with their slo-mo flows.
Juice luxuriates within the beat, carefully enunciating every word and extending his "s" sounds as he mixes punchlines with profundity: "Might hot box the whip like B-Real was in it/Had a dream, feelin' lucid, and every word I meant it/We put the hood name on our back, I'm used to heavy lifting." Meanwhile, Devin The Dude delivers the stoner wisdom and laid-back rhymes that fans have enjoyed for decades: "Dedicate myself, I medicate myself/Stay away from hard drugs, I'll never hate myself." "Alto" will appear on Zombie
Juice's solo debut project, due to release in the coming months.
"This has been a long time coming. I can't think of a better way to launch my solo journey than with Erick The Architect on the beat, the legendary Devin the Dude on the mic, and the hypnotic sounds of Rae Khalil. Peace and love and Ganja Smoke." –  Zombie Juice."
Earlier this week, Zombie Juice shared "Jackin' For Beats," a stylish new clip that highlights his natural emcee skills. The new song finds the FBZ spitter doing his thing atop three classic beats, rejuvenated by Erick The Architect: "Me Against The World" by 2Pac, and "Never Change" and "So Ghetto" by Jay-Z. Captivating with his soft-spoken, but fast-moving flow, Juice finds his own pockets within the familiar instrumentals, mixing up carefree punchlines with heady political statements: "They normalize hate and pain/Cause deep down it's hard to change/Generational trauma, maybe we all to blame." In the video, directed by Keaton Brownlow, Juice rocks an outfit from Desto Dubb's Cough Syrup brand as he raps in front of backdrops that shift along with the song's three beats.
One-third of the Billboard Top Ten-charting collective Flatbush Zombies, Zombie Juice is one of the most respected emcees in his home city, celebrated for his twisty flows and incisive lyrics. Since the trio formed in 2010, they've made waves with albums like 2016's 3001: A Laced Odyssey and 2019'sVacation In Hell. Though the group is currently on hiatus while the members pursue their solo projects, they performed a Tiny Desk (At Home) concert for NPR in last August. On his upcoming solo project, Zombie 
Juice will delve deep within himself, reckoning with personal demons and defining himself as a full-fledged artist, not merely a member of a group.
In addition to music, Zombie Juice is the CEO of Talking Terps, a brand that specializes in streetwear and herbs. Stay tuned for much more music and announcements from the emcee in the near future.
Buy/Stream "Alto" ft. Devin The Dude & Rae Khalil: https://orcd.co/alto
Watch "Jackin' For Beats": https://www.youtube.com/watch?v=q_gl5sUzxLo
Watch the visualizer for "Alto" ft. Devin The Dude & Rae Khalil:
© 2021, Seth Barmash. All rights reserved.