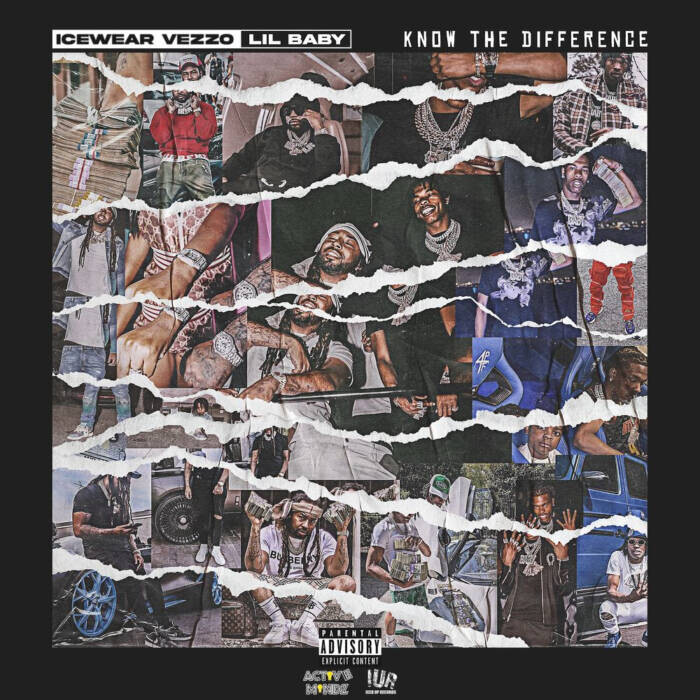 Respected from The A to The Bay and everywhere in between, Icewear Vezzo helped build the Detroit rap scene into the flourishing behemoth it is today.  Since releasing his first mixtape The Clarity in 2013, Vezzo built a large and loyal fanbase in The Mitten and beyond, feeding the streets and his 131k YouTube subscribers with high-quality releases and representing for Detroit on tracks by Big Sean, G Herbo, Drakeo The Ruler, DJ Mustard, Zaytoven, and many others. The 31-year-old artist frequently collaborates with other major figures in the Detroit scene, including Peezy and Babyface Ray, who he featured on his street hit –in just the past two years, Vezzo made waves with songs like "Meg Thee Stallion" ft. Babyface Ray, GT & Veeze (7.8 million YouTube views. named one of the Best Songs of 2020 by Passion Of The Weiss), "The Sit-Down" ft. Babyface Ray (6.2 million views), and "Dog Action" ft. Rio Da Yung OG (10 million YouTube views).
In addition to his heavy stature in the rap game, Vezzo makes moves as an entrepreneur in multiple industries. He's the owner of his own label Iced Up Records, recently launched the Iced Up Films, a production company whose first film Price Of Love (starring Vezzo himself) is available for rent on Amazon, and is the CEO of his own clothing company Drank God Clothing. Though he's a self-made man, Vezzo never forgets to give back–his company Iced Up Realty focuses on providing affordable housing in the Detroit community in which he was raised, and he teamed up with his mom to start The Detroit Rappers Organization, which is heavily involved in seasonal giveaways and field trips for Detroit's youth.
Telling street stories with a conversational drawl, Icewear Vezzo's reputation as a grade-A hustler stretches from coast to coast. Today, the Detroit native continues a run of high profile collaborations, teaming up with Lil Baby for his new single "Know The Difference." A dramatic anthem for the flexers, "Know The Difference" gets its power from the contrasting styles of the two emcees–Baby hops out of the speakers with his melodic triplets, while Vezzo dabbles with auto-tune and delivers words of wisdom without elevating his heart rate.
In the video, releasing today at 4:00pm ET, Vezzo and Baby vibe out in Detroit's West End, bringing out the block as they show off their McLarens and Aventadors. "Know The Difference" is the latest in a line of Vezzo's songs with the biggest names in rap, following "Tear The Club Up" ft. Future and "Up The Scoe" ft. Lil Durk, the latter of which racked up over 11 million views on YouTube.
"Know The Difference" arrives ahead of Rich Off Pints 2, Vezzo's upcoming project arriving next month. The sequel to the Pitchfork-praised Rich Off Pints, ROP 2 explores Vezzo's status as a pillar of the flourishing Michigan rap scene, and how he hustled out the mud to become a thriving artist and entrepreneur. The upcoming tape is home to "Tear The Club Up" and "Chamber Brothers," Vezzo's slinky recent single. Featuring appearances from Babyface Ray, Rio Da Yung OG, RMR, SpotemGottem, G.T., and more Rich Off Pints 2 arrives on September 10th via Iced Up Records / Active Mindz Ent.
Released earlier this summer, Rich Off Pints is home to introspective highlights like  "Still With Me" ("Used to have sh*t to live for, now I have plenty reasons," spits Vezzo on the track), and hard-hitting bangers like "Choppy Talk" and "Kobe Bryant" ft. EST Gee. The 16-track effort charted on the Billboard Heatseekers chart, and helped propel the artist to #9 on Rolling Stone's Breakthrough 25. With additional appearances from respected names like Trippie Redd, Lil Yachty, Dreezy, BIG 30, and more, Rich Off Pints tells Vezzo's story while paying tribute to a Detroit scene he helped foster.
Watch "Know The Difference" ft. Lil Baby (releasing at 4:00pm ET): https://youtu.be/vA_fee5VsVM
Buy/Stream "Know The Difference" ft. Lil Baby: https://foundation-media.ffm.to/knowthedifference
Tap in with Icewear Vezzo: https://linktr.ee/IcewearVezzo
© 2021, Seth "Digital Crates" Barmash. All rights reserved.