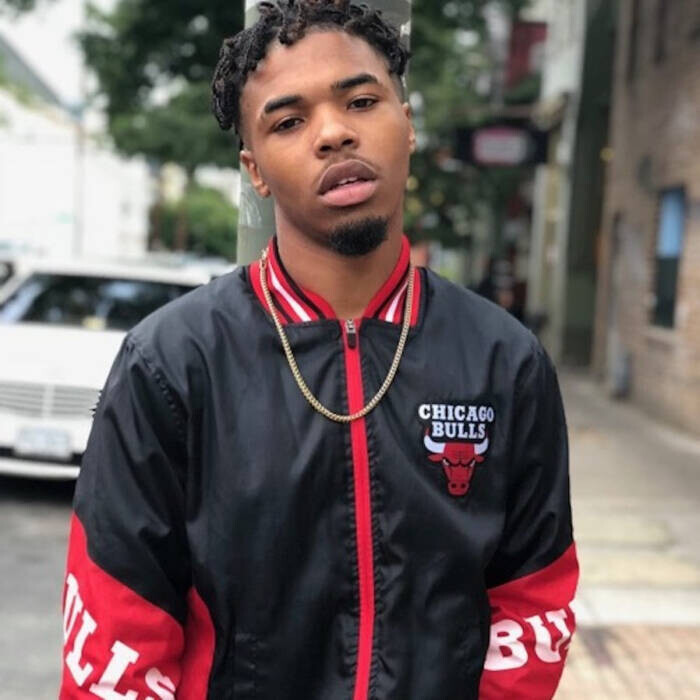 The 22 year old Richmond, VA rapper, FNF Chop has just released the fan video for his TikTok-viral hit song, "Walk Down." The Sergio M. Lorenzana directed video features droves of fans wearing #FreeFNFChop t-shirts who were inspired to do the "Walk Down" dance challenge in a display of solidarity with the incarcerated rapper whose mistreatment in the Richmond Correctional Facility lead to his having contracted the coronavirus twice while locked up. "Walk Down" is a thunderous track that went viral earlier this year, prompting millions of uploads to TikTok by fans and influencers like Coi Leray whose TikTok and Instagram uploads have over 3 million combined views. The original song and video have over 5 million combined streams and the song is steadily increasing by around 100k streams per week.
FNF Chop is a man in the process of having his moment, but only able to witness it from behind bars. Undeterred by his current imprisonment, FNF Chop makes a virtual appearance in his new video via FaceTime where he's seen turning up alongside his friends and speaking to his mother about predicting his success. For years, Chop has been building a small presence in the local music scene of Richmond. Known for his hyperactivity, FNF Chop lets his high-energy spirit shine on records, like "Drums & Drakes" and "ABC," presenting listeners with commanding flows on over powerful beats.
FNF Chop is expected home later this year, but in the meantime, his manager, FNF Levy has been doing everything he can to help support him. Since incarceration, FNF Chop has feared for his health. Worried that his prison facility is not maintaining the proper health and safety protocol, his family and management have called on the NAACP and local politicians to assist in ameliorating his living conditions, pushing for the early-release that Virginia's governor promised inmates like Chop. Hoping to raise awareness for these malpractices, the #FreeFNFChop campaign was created to bring light to the injustices set forth against FNF Chop.
FNF Chop learned he made a viral hit while behind bars. "I was in here just chillin'," explains the 22-year-old rapper awaiting release from Virginia's Richmond City Jail, "All of a sudden, I kept getting new followers." "Walk Down," a commanding song Chop had abruptly made in 2019, had exploded on TikTok a year later. The artist browsed the app to find thousands of clips set to his track. Within months, over 100,000 more videos were using the single, generating over one million views. Evident in 2021's No Exit EP, FNF Chop plans music in the future while insisting that his legal troubles are a thing of the past. "I'm not okay with being okay; I'm not comfortable with being comfortable," asserts the talented young rapper with a wealth of street wisdom. 
 
Chop's journey begins in Baltimore, Maryland, where a single mother raised him and his six siblings. Outside the home, the streets were ruthless and violent. Inside, the family battled poverty and spent at shelters. The FNF acronym is a reminder that Family Never Folds. From early on, music represented a therapeutic escape. "I always struggled with depression, anxiety, and stuff like that. I'd spend time with my headphones in on my CD player and listen to songs and beats and analyze." By his adolescence, Chop's mom relocated the family to housing projects in Richmond, Virginia. As he entered manhood, Chop faced pressure to provide. "I came up with a plan to better the situation for my family. I tried to take some of the stress off of my brothers and my mama." In the early days, Chop took to the streets, leading him to several stints behind bars. While serving time in the mid-2010s, Chop discovered a talent that lay within. "I had nothing to do; I decided that I'd write raps." Soon, he showed his skills to fellow inmates and friends on the outside. "I never really thought I'd take it farther than that, but then people really responded to my songs." Chop left jail ready to work.
ABOUT FNF CHOP:
 Spotify | Youtube | Instagram | Soundcloud
© 2021, Seth Barmash. All rights reserved.