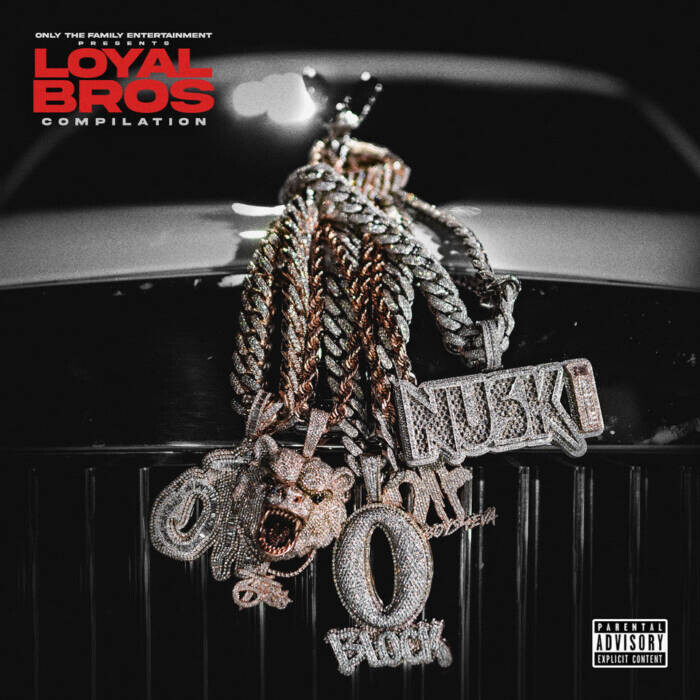 Lil Durk and his Only The Family label have grown in popularity, but they still dedicate their music to those going through the struggle. Arriving after a year marked by life-changing success and terrible tragedy, Durk and OTF share Loyal Bros, the fourth OTF label compilation tape. Spending their youths on the South Side of Chicago, Durk and the rest of OTF forged unbreakable bonds in the face of violence, gaining pride and security from the knowledge that their brothers had their backs. The new compilation explores that kinship, strengthened by the hardship of growing up in the trenches. The cover of Loyal Bros pays tribute to OTF's fallen vultures, honoring King Von, who experienced a commercial breakthrough before his tragic passing in November, and acknowledging still-painful absence of OTF Nunu aka Nuski, who died in 2014.

The new 23-track tape is home to several new songs by Lil Durk, plus posthumous appearances from King Von, emotionally impactful turns from Booka600, snarling street missives from Memo600, and contributions from fellow OTF signees like Timo, Doodie Lo, JusBlow600, THF Zoo,and C3. In addition to OTF's talented roster, Loyal Bros welcomes several high profile guests, including Lil Uzi Vert (who connects with Memo600 for the standout track "Let It Blow," Durk's frequent collaborator Tee Grizzley (who has his own solo track on the project), and The New 1017 standouts Foogiano and Big30. The mixtape is home to recent singles "Pistol Totin," by Memo600 & Foogiano, "Rules," an educational track from Timo, and "Jump," the tape's mission statement and opening track, which features contributions from Durk, Memo600, Booka600, and King Von. Featuring additional appearances from Slimelife Shawty, EST Gee, Lil Mexico, Ikey, and more, and production from OTF-signed producers TouchOfTrent and John Lam, plus others, Loyal Bros is available verywhere via Only The Family/EMPIRE.

Coming hot on the heels of Lil Durk's The Voice (Deluxe) album, currently situated in the Top 5 of the Billboard 200, after peaking at #2 and spending more than 10 weeks in the top 10, Loyal Bros continues what's shaping up to be a banner year for Only The Family.

Buy/Stream Loyal Bros: https://music.empi.re/loyalbros

Loyal Bros tracklist:
1. "Jump" (ft. Lil Durk, King Von, Booka600, & Memo600)
2. "Sip Again" (ft. Lil Durk, Doodie Lo, & THF Zoo)
3. "Let It Blow" (ft. Memo600 & Lil Uzi Vert)
4. "Hellcats & Trackhawks" (ft. Lil Durk)
5. "Turkey Season" (ft. Lil Durk & Chief Wuk)
6. "Chess" (ft. Tee Grizzley)
7. "Took Down" (ft. Doodie Lo & Big30)
8. "Out The Roof" (ft. Lil Durk, King Von, Booka600)
9. "Me & Doodie Lo" (ft. King Von & Doodie Lo)
10. "Game Face") (ft. Booka600 & Tee Grizzley)
11. "I Ain't Lying" (ft. Chief Wuk & EST Gee)
12. "Pull Up" (ft. Doodie Lo, Timo, & C3)
13. "Do It For Von" (ft. THF Zoo, Memo600, & Booka600)
14. "Dying 2 Hit 'Em" (ft. Lil Durk & Slimelife Shawty)
15. "Toxic" (ft. Jusblow600)
16. "Glaciers" (ft. Booka600 & Boss Top)
17. "Kennedy" (ft. Lil Mexico)
18. "Streets Raised Me" (ft. Doodie Lo & Booka600)
19. "Rules" (ft. Timo)
20. "Pistol Totin'" (ft. Memo600 & Foogiano)
21. "Young Rich N****s" (ft. Ikey & Hypno Carlito)
22. "Get Backers" (ft. THF Zoo, Boonie Moe, & Boona)
23. "Apart" (ft. Booka600)
© 2021, Seth "Digital Crates" Barmash. All rights reserved.