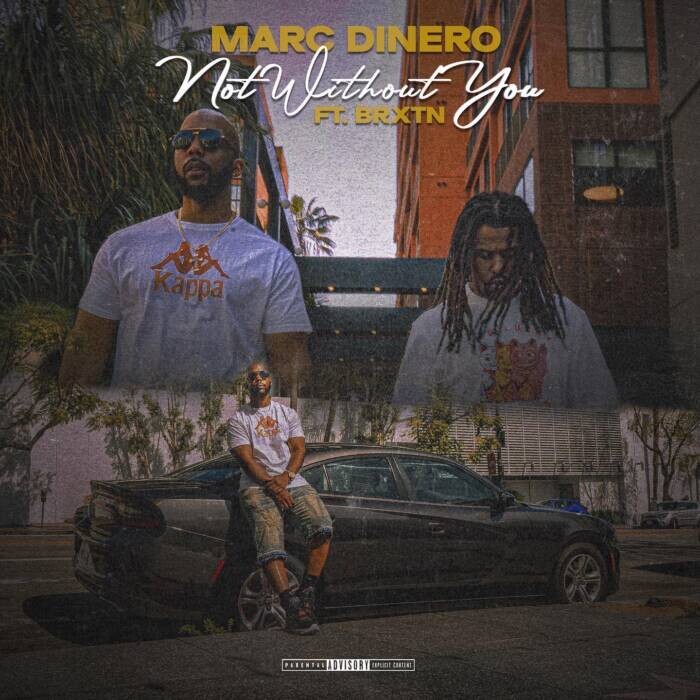 By: Julz Mancini
Marc DiNero has done it again! "Not Without You" featuring BRXTN is the perfect summer track produced by highly sought after producer Foreverolling. Foreverolling has recently received top charting placements with Lil Baby and is known for his catchy producer tag on Louisville's own EST GEE. Marc DiNero explains, "Being in the Louisville area, I definitely felt it only made sense to get some work in with him. This record overall gave me sunny California vibes, so I knew that I wanted the visual to match the vibe of the record." The relatable lyrics allow the listener to reminisce about their first encounter with that special someone and how the relationship has since progressed and blossomed into what it is now.
"I can spin the block and pull up right at your location. You ain't gotta keep a ni**a waiting…no. Girl I know you see that I've been patient."
BRXTN's phenomenal lyrics add value to the song. His soft, soulful voice blended with harmonies enhances the vibe of "Not Without You". BRXTN and Marc DiNero are known for their catchy and perfect collaborations. Marc DiNero describes the decision making process for the collaboration, "The decision to put BRXTN on this record was easy for me. I write a great majority of the hooks that require that melodic tune I may be looking for. How I wrote it and how BRXTN delivered was different but BRXTN took it and made it his own and added the wave this record needed." They are certainly a powerful team that gives their audience an amazing experience with every release. 
"I can spin the block now. I could remember back in school I had to lock you down. I was that ni**a making moves like are you watching now? Like all these other ni**as fools look how I got you now. Always knew you was a bad one. It's ten times better when I know they couldn't have you."
The song is enough to create a plethora of emotions for the listener. The visual for "Not Without You" brings the song to life and was shot by Trap Steve in Los Angeles, California. Warm weather, intimate walks on the beach, and clear skies are what the audience is met with. These artists strategically developed this project during the opportune time and focused on creating a song for the ladies. "I always seem to aim for the female audience in some of my singles. I never wanted to be that rapper that couldn't make music for women. Being able to win the female audience, to me, is big. Plus in this stage of my life I have relatable experiences that I believe can be felt when it comes to relationships", Marc explained. 
"Not Without You" changes the narrative on how to speak to women; a true representation of a beautiful relationship between a queen and king. Be sure to follow the artists on social media and stream this amazing song. 
STREAM "NOT WITHOUT YOU" ON SPOTIFY
© 2021, @BWyche. All rights reserved.