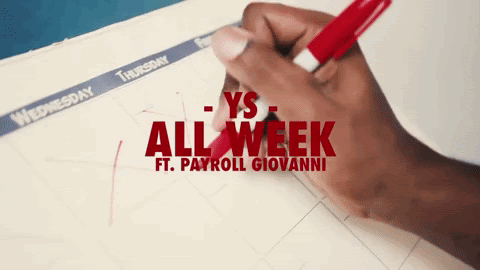 Only a week after releasing his highly touted project "Realer Than Real", YS is back with a brand new visual for "All Week" featuring Detroit legend Payroll Giovanni. The disco-like production provided by Helluva sets the table for YS and Payroll to electric slide all over the track. YS explains what a seven day period is like for him when he states, "I was just thuggin' on the block on Sunday, flew to the D when I land it was Monday, Tuesday went and grabbed that Glock now it's doomsday, Wednesday my dog just hit me said the food came, Thursday I was thumbing through it playing with them blues, Friday we was sliding with a dirty tool, Saturday I woke up then I watched the news". Payroll then gave a description of his exploits on his verse, "Monday I was stocked, Tuesday I had a couple, by Friday I'm iced up leaving bitches puzzled".
The REALMOVIE directed visual shows YS and Payroll marking their calendars planning out their respective weeks, in front of a stable of yellow luxury cars.
© 2021, Seth Barmash. All rights reserved.