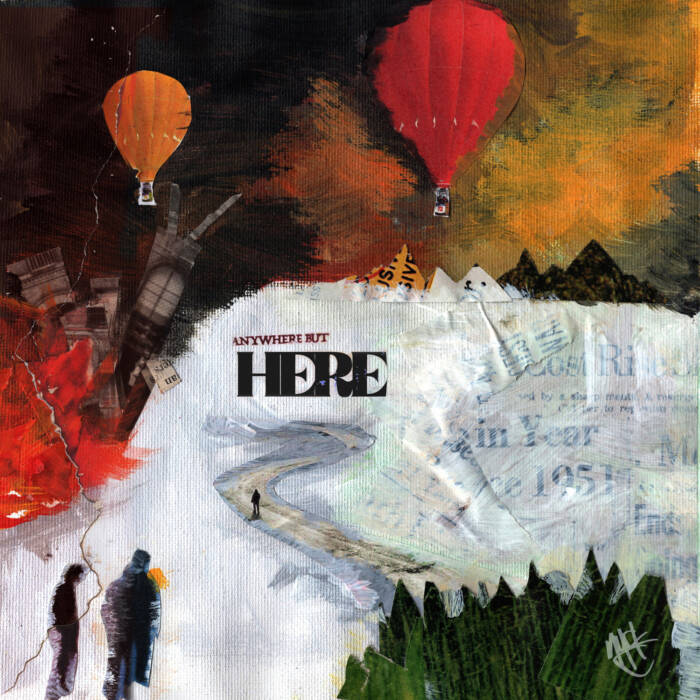 A fixture in the Brooklyn scene for nearly a decade, Nyck Caution is serious about his craft. After putting years of work into elevating his pen game and developing his aesthetic, Nyck shares Anywhere But Here, his official solo debut album. A soulful and self-assured effort, Anywhere But Here arrives after years of personal turmoil, including the recent death of his father. The album explores all facets of Nyck's personality, kicking off with introspective and reflective tracks like the mournfully hopeful "December 24th" ft. Elbee Three and the over-it-all title track, before the 26-year-old rapper unleashes his aggression and frustration with industry politics on songs like "What You Want." In the album's closing stretch, Nyck reflects on his difficult years and examines how he's changed.
Steeped in the culture of his home borough, Anywhere But Here reverberates with booming bass notes and crisp percussion, delivering a spin on classic NY rap sounds seasoned with Nyck's wry sense of humor and incisive storytelling. On recent single "Bad Day," Nyck embraces the en vogue Brooklyn drill sound as he goes toe-to-toe with Denzel Curry. The project is home to "How You Live It," a hard-hitting new single with an appearance from Nyck's Pro Era cohort Joey Bada$$, and "Product of My Environment" with fellow Brooklyn MC's Kota The Friend and Erick The Architect, which tells Nyck's origin story with spiritual panache. Featuring additional appearances from Nyck's Pro Era cohort CJ Fly, GASHI, TheMind, and more, Anywhere But Here is available on all platforms via Pro Era Records/ADA Worldwide.
Born and raised in Brooklyn, Nyck Caution made a name for himself as a member of the Pro Era collective. Impressing with his crystal-clear bars and malleable flows, the 26-year-old rapper became a fixture of the NYC rap scene in the 2010s, appearing on projects by Joey Bada$$ (including the popular 1999), as well as Beast Coast's Escape From New York and A$AP Mob's Cozy Tapes Vol. 2. He connected with Pro Era producer/rapper Kirk Knight for Nyck @ Knight, generating tens of millions of streams on Spotify alone. Last summer, Nyck showed a new side of himself with the Open Flame EP, which earned coverage from Complex, NME, HotNewHipHop, and more. Now with an accomplished album under his belt, Nyck is ready to establish himself as an artistic force on the East Coast.
Buy/Stream Anywhere But Here: https://proera.ffm.to/anywherebuthere
Anywhere But Here tracklist:
1. December 24th (ft. Elbee Thrie)
2. Anywhere But Here (ft. Maverick Sable & Alex Mali)
3. Motion Sickness
4. Vin Skit #1
5. How You Live It (ft. Joey Bada$$)
6. What You Want (ft. GASHI)
7. Dirt On Your Name
8. Vin Skit #2
9. Bad Day (ft. Denzel Curry)
10. Coat Check/Session 47
11. Product Of My Environment (ft. Kota The Friend & Erick The Architect)
12. Things Could Be Worse (ft. CJ Fly & Jake Luttrell)
13. Something To Remember Me By (ft. TheMind)
14. Kids That Wish
© 2021, Seth Barmash. All rights reserved.