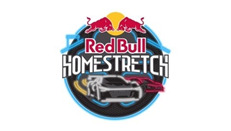 It's lights out on the grid for Red Bull Homestretch as 10 new a-list drivers start their engines for the third and finalevent of the three-part virtual race series on Thursday, June 10 livestreamed exclusively on Red Bull Twitch (Digital Copy of Gran Turismo Sport provided courtesy of PlayStation®). The legendary roster of participants, comprised of Formula 1 Red Bull Racing Honda driver Sergio Perez, rapper Lil Uzi Vert, TikTok star Jaden Hossler, professional basketball point guard Cole Anthony and more, are pitted against each other for a series of light-hearted racing and good-natured entertainment. Viewers can expect driver banter and witty exchanges from the competitors as they balance navigating fresh racetracks for the first time and sudden live rule changes while playing Gran Turismo Sport (Rated E with Use of Alcohol and Tobacco).
Although most of this week's participants are not professional drivers by trade, their competitive nature will undoubtably come alive – in an irreverentway – as they get creative to fight their way to the top of the virtual podium. Whether that be via forming alliances, sending it full gas to the finish line or using their verbal persuasion skills to petition viewer support via "Bull Coins," expect drivers to pull out all the stops in the quest for victory. The viewers have more influence than ever before with the ability to accrue Bull Coin viewer points through their watch time and vote on racetracks and on-the-fly rule changes. Viewers can use Bull Coins from the virtual sidelines to cheer their favorites on to glory, may see their username visible during the show and even receive shoutouts from the drivers themselves. Tune in to thelive broadcast to find out more.
Tune in to watch live on twitch.tv/RedBull and Red Bull Motorsports YouTube.
Drivers confirmed for the third event on June 10 include:
Multi-platinum artist and songwriter Lil Uzi Vert
Formula 1 Red Bull Racing Honda driver Sergio "Checo" Pérez
Singer, songwriter and TikTok personality Jaden Hossler
Orlando point guard Cole Anthony
Two-time Olympian and 2019 Senior World Team Champion Miles Chamley-Watson
Actor, model and fitness entrepreneur Matthew Noszka
Professional skateboarder Jamie Foy
Three-time Supercross winner and current Motocross points leader Jett Lawrence
Winter X Games Gold Medalist Zeb Powell
Rapper, singer, producer and songwriter Blxst
Red Bull Homestretch Event One and Event Two crowned champions at the end of each event – Formula 1 Scuderia AlphaTauri driver Pierre Gasly and Rallycross star Scott Speed, respectively – after both drivers were forced to contend with wildly varying unexpected rule changes.
Racers will take to the virtual track for the final time on Thursday, June 10 at 12:00 p.m. EDT/9:00 a.m. PDT. Tune in to watch live on twitch.tv/RedBull. For more information, visit www.RedBull.com/Homestretch.
© 2021, Seth Barmash. All rights reserved.