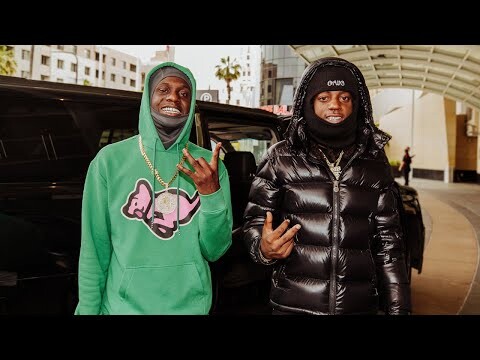 Taleban Dooda is poised to be Tampa's next breakout star thanks to his melodic tenor and soul-baring lyricism. Linking up with OMB Peezy, he continues his ascent by sharing the video for "My Bruddas." The highlight track from his debut album, Fallen Angel, finds the duo waxing poetic about staying loyal and settling scores. The dire situations which they depict provide a stark contrast from the hazy, laid-back video, where they kick it in Hollywood in front of all-black SUVs.
Released in May, Fallen Angel captivated listeners as Dooda documented his rise and the struggles he faced along the way. He blends genres and regions into his signature croon on album highlights like "Chosen" ft. T9ine, a gospel-influenced anthem that earned praise from Pitchfork and HipHopDX (who named the song one of the Best Hip-Hop Songs of 2021 So Far), and "Trappin Ain't Dead," a Detroit-style banger with a standout verse from 42 Dugg. Featuring additional appearances from Tory Lanez, Yung Bleu, and Dee Watkins, Fallen Angel is available to stream everywhere via Green Light Music Group/Rostrum Records.
Taleban Dooda has been steadily building a loyal fanbase over the past year, displaying a natural melodic ability that helps him stand out among street rappers in Florida and beyond. He scored street hits in the first half of 2020 with "Tru Colors" (included as a bonus cut on Fallen Angel with over 3 million total streams) and "2 In Da Morning" (1 million views), and turned heads last fall with standout singles like "Dis Dooda," which Vice named as one of the 24 Best Songs of September. Dooda recently told his story in a Noisey Next feature with Vice, touching on his experience growing up in Tampa and his musical inspirations.
With Fallen Angel, Dooda takes his latest step towards establishing himself as a major player in the Southern scene. With tens of millions of streams at just 19 years old, this is just the beginning.
Watch "My Bruddas" ft. OMB Peezy: https://youtu.be/Jk-o_u4zHNg
Buy/Stream Fallen Angel: http://smarturl.it/TDoodaFallenAngel
© 2021, Seth Barmash. All rights reserved.