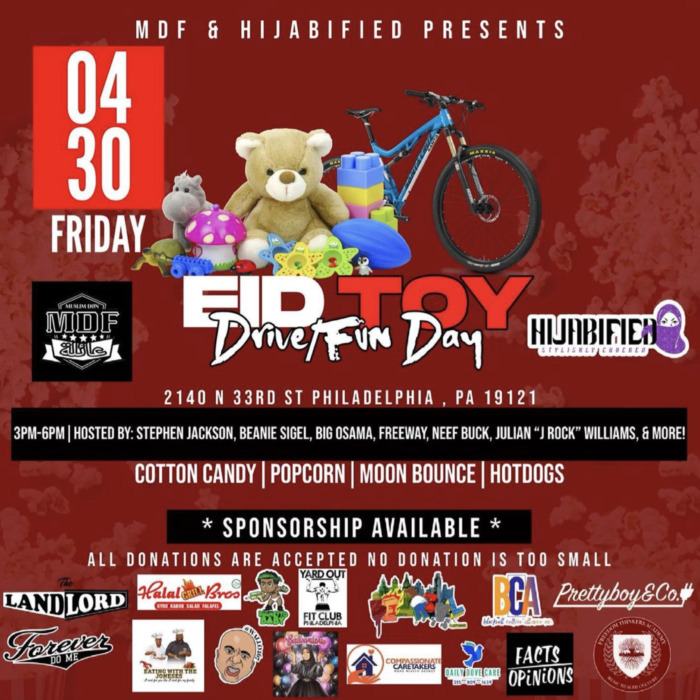 Roc Nation Management's newest addition, Tone Trump, has teamed up with Grammy
nominee Neef Buck, and Hijabified Clothing to host the First Annual Toy Drive and Day of Love in celebration of Eid and the end of the Holy month of Ramadan.
Fresh from a month-long mission trip in Africa, the famous rapper, Tone Trump, and partners Neef Buck and Niddarah Winters, CEO of Hijabified Clothing, are bringing their mission to their hometown of Philadelphia by hosting the First Annual Toy Drive and Day of Love in celebration of Eid al-Fitr and the end of the Holy month of Ramadan. On April 30, 2021, families are welcome to join the festivities at Joseph E. Mander Playground between 3 PM and 6 PM.
Niddarah Winters organized the A-list team with the singular goal of celebrating the religious holiday in a safe and public space; "We came together to do this for the kids. To teach and show them how important our holidays are". Winters launched Hijabified Clothing in 2016 as a t-shirt brand which quickly developed into an entire modesty collection for everyday stylishly covered womenswear.
"Muslim children grow up seeing Christmas, Thanksgiving, and Easter toy drives," said Grammy nominee Neef Buck, "So we wanted to celebrate our holiday and show the intercity Muslim children some public festivities that they'll be able to look forward to each year." Neef Buck is famously half of the American hip-hop duo Young Gunz, whose debut single, "Can't Stop, Won't Stop", made top 15 on the Billboard Charts in 2003.
Although the event is in celebration of the Muslim holiday Eid, the hosts emphasize that families of all faith are welcome. "This Day of Love is for everybody," says Tone Trump, "We welcome all people to celebrate with us, bring your families, have fun and interact with one another!" Tone Trump is a Philadelphia-native rapper, author, and entrepreneur. His music career just ramped up as a new signee under Roc Nation Management, and the planned release of his new album, "One Foot In, One Foot Out", releasing early summer 2021. He is also the CEO of Muslim Don Family Inc., an apparel collection dedicated to Muslim culture and bringing his faith into the hip-hop and mainstream culture. His leisurewear collection includes unisex hoodies, t-shirts, and socks, each featuring printed Muslim slogans or images.
With the help of sponsors and volunteers, Tone Trump, Neef Buck and Hijabified Clothing will be giving out hundreds of gifts to children of all ages during the 3-hour event. The age-appropriate toys will range from clothing to games to electronics, focusing on learning and education. Notable gifts include computers and tablets for e-learning and bikes and scooters for exercise. The hosts went viral on April 29 in an Instagram post showing the line up of shopping carts filled with gifts and exclaiming their gratitude to all who have helped to make it happen. 
In addition to the hosts, attendees will meet other celebrity Muslims, including former NBA basketball player Stephen Jackson who will be flying into Philadelphia to attend. When asked about the importance of the First Annual Toy Drive and The Day of Love, Jackson responded, "As a black man, I know it's a must that we take care of each other to create real change. The best feeling I ever felt was putting a smile on a child's face who wasn't expecting it. When you really give back, it'll do something for your heart as well." 
Groceries and clothing will also be gifted to the families in attendance. Tone Trump is well known for his charity in clothing, having run an annual sock drive that has donated over 100,000 pairs of socks to shelters in and around Philadelphia over the past five years. As the least donated apparel item, Tone Trump has made it his mission to use his platform and influence to educate the importance of socks in shelters. He has big plans for future sock drives, including collaborations and limited releases that he hopes will allow him to donate over a million pairs in the coming years.
The hosts promise that this is only the beginning. "At one time, we played a part in destroying our community," tells Tone Trump, "So it's only right we play our part in building it up and giving back." The team boasts a slogan of Make Giving Back Cool and is excited to put it into practice at their First Annual Toy Drive and Day of Love event.
The First Annual Toy Drive and Day of Love event will run between 3 PM and 6 PM at Joseph E. Mander Playground at 2140 N 33RD St., Philadelphia, PA, 19121.
© 2021, Seth "Digital Crates" Barmash. All rights reserved.