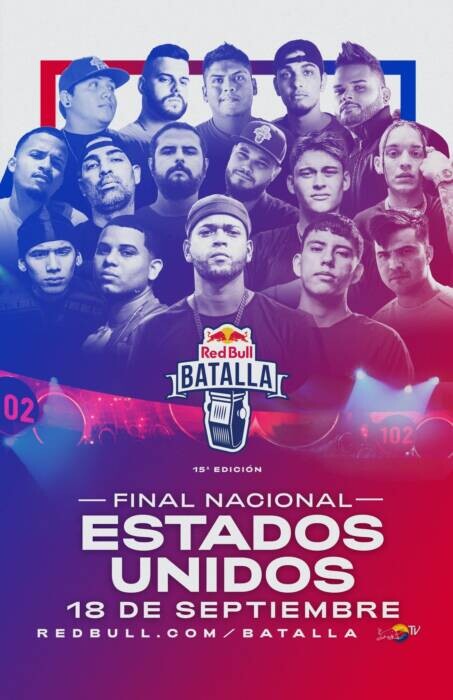 Tune in this weekend to watch as the top 16 Spanish freestyle MCs in the country compete for the championship 1 vs. 1 live from Los Angeles for the chance to take the top spot and be crowned the 2021 Red Bull Batalla US Champion and advance and represent the country at the December Red Bull Batalla International Finals in Chile.
Watch LIVE Saturday, 9/18 at 4pm PT/7pm ET on Red Bull TV via redbullbatalla.com
Ahead of the finals, HipHopSince1987.com interviewed four of the competitors. Each competitor is from a different region (Florida, Texas, East and West Coasts to discuss the massive scope of the U.S. final.
The first artist we interviewed represents New York and is named Adonys. Adonys was born in the Dominican Republic and moved to New York at a young age. He talks about the Freestyle culture and different leagues that he has competed in as well as the upcoming Red Bull Batalla event. He preaches authenticity in his raps and how important it is to be himself amongst the other competitors. He talks about his motivation to keep improving and competing in Freestyle competitions. He is a technical and strategic MC who is able to use multiple flows over the rhythms of the beats, his favorite of which are 1990's era boom bap type beats. He talks about the importance of preparation for battle and how he balances making music with freestyling. He loves the culture and his excitement for the competition shines through in the interview.
Next up is Yartzi representing Miami by way of Puerto Rico and is the reigning two-time Red Bull Batalla Champion. In the interview, Yartzi talks about his origins in making music and battling in freestyle competitions. He won the very first battle he was ever in and that motivated him to train and take the craft seriously. He talks about his climb to the top representing Puerto Rico in world championships. He talks about traveling and winning battles and remaining humble as he is constantly improving his skills. If he gets the three-peat championship at this competition he is going to "hang his gloves" and focus on other battles and leagues. He talks about the importance of stage presence and delivery to make the words and punchlines hit harder. He also talks about balancing making music with staying active in the battle circuit. Even though he is a champion he looks at battling as a learning experience and continues to try new flows and strategies to win. He talks about his methods for preparing for battle including working on clearing his mind and breathing techniques. He talks about the 4×4 type of battle being his strongest type of battle as well as having fun with competing in different types of battles. He ends the interview talking about what the future might hold for him including judging events as well as organizing them and touring and performing his own music. He also has much love for the culture and is the main competitor to watch this weekend.
Originally from Oaxaca and representing San Fernando Valley and Los Angeles, Boss is a fierce competitor in the Batalla. He has a laidback west-coast flow but is a threat in the battle circuit. In this interview, he talks about finding his love for music and expressing his lifestyle through freestyle rap.  His origins in hip-hop also include graffiti and art and he is definitely a student of the true school of hip-hop. He sees himself as a "gentle giant" but is also an aggressive lyricist with many flows to set up his deadly punchlines. He comes from the generation that had to "earn their keep" with cyphers and graffiti and his knowledge of the hip-hop game is what elevates him as a member of the battle rap community. At the end of the interview, he gives great advice to up-and-coming artists and freestyle rappers.
The last interview is with Cuban, who represents Cuba by way of Texas. Upon moving to the United States Cuban used the internet to discover and then fall in love with hip-hop and rap music. His love of music led to him beginning to freestyle long before he started battling.  He has music with a group online now and properly balances his creation of music with battling in freestyle competitions. He values his time and makes sure with his music and his battles that he leaves an impression and that people remember him for his authentic work. The lifestyle is intense and he understands the mission of being mentally and physically prepared with exercise and a healthy routine.
Make sure to tune in this weekend as the top 16 artists go head to head in battle. This is an important event that is setting the bar high for the freestyle rap and rap battle communities.
© 2021, Seth "Digital Crates" Barmash. All rights reserved.