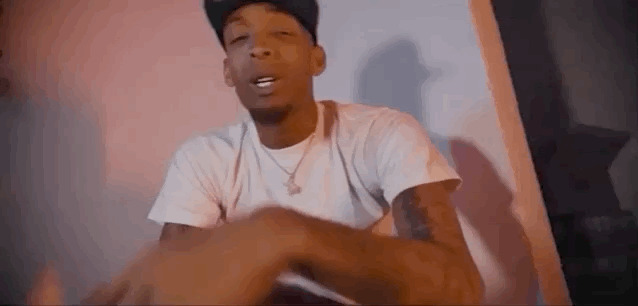 Speaking with the gravitas of a man who's seen it all, Wacotron is determined to turn his rap success into generational wealth. Digging deep into his past, the Texas rapper levels up from a "Gram And A Hoodie" in his new single and music video. Blessed with a head-nodding, guitar-driven beat from 808 Mafia chieftain Southside and Pyrex 808 Mafia, Wacotron tells his origin story, detailing how he rose from the titular "gram and a hoodie" to prominent status in his neighborhood, commenting on the real trauma he's suffered on the way up: "I been through it, don't want to rewind/No handouts I got this out the grind/You gon' tell on your people, you none of my kind/How he got your back but he ain't got a spine?"
In the video, stylishly directed by Donthypeme and WeTheShooters, Wacotron illustrates the difficult choices that one needs to make in order to survive in the hood. As Wacotron and his friends post up outside a convenience store, the camera is drawn towards a teenager forced to steal food in order to feed his family. "Gram And A Hoodie" is the latest in a line of quality visuals, following "Checclist," which dropped two weeks ago, and earlier videos for "Take Off" and "Toothpaste."
A native of Waco, TX–hence his name–Wacotron showed a passion for music from a young age, absorbing the 808-driven trap music he listened to in the car with his dad. After spending years mired in the struggle, Wacotron turned to rap in his 20's, searching for a better way to provide for his family and escape his circumstances. The rapper started to build a reputation in his home state, eventually catching the attention of Pick Six Records, who signed him to a deal and connected him with Southside and 808 Mafia.
With the weight of the influential 808 Mafia behind him, Wacotron is in prime position to make his mark on the rap game in 2021. Stay tuned for much more music from the artist in the weeks to come, including his upcoming debut project Smokin' Texas.
Watch "Gram And A Hoodie" (Prod. by Southside & Pyrex 808 Mafia): https://youtu.be/gGfK1EIT2bM
Buy/Stream "Gram And A Hoodie": https://picksix.ffm.to/gramhoodie
© 2021, Seth Barmash. All rights reserved.