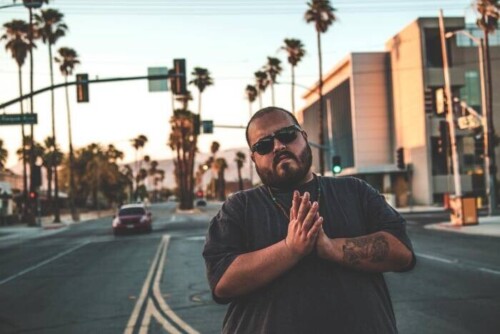 California's own Juan Carlos Fajardo Jr or more professionally known as Xpression by trade of being a hip-hop artist. Xpression's music is based on sticking to the roots of emceeing, the blood, sweat, tears, passion, and pride of the writing, delivery, and flow in his music. His incredible wordplay, lyricism and storytelling has led him to grow an audience on Instagram of over 150K followers. He has worked with other industry artists including Cassidy, Kxng Crooked, Bizzy Bone, Cyhi The Prynce, King Los, Jag, Chino XL, Bizarre of D12, and many more.
Xpression got into music in his early high-school days when he was diagnosed with bipolar disorder, he faced multiple personalities, he was into poetry the rest was history. Using music and therapy has helped him overcome many challenges in his life including depression; his music also is a good therapy mechanism to his listeners giving them the raw reality of what hip-hop actually is especially in his song "Eyes Wide Shut" Featuring Chino Xl. The song is about how he is fed up with the lies of the industry, and how he is taking a stand to expose the cracks in the industry. Anti being a slave and not owning your masters is an important step to being a successful artist, but also if you aren't aware of what's going on the industry and the quote unquote "illuminati shit"
Thankfully Xpression is an indie artist and he has full creative control over his music. Be sure to check out Xpression "Eyes Wide Shut" ft. Chino XL which was produced by Cutty Dre & Crooks, mixed and mastered by @mixedbycrooks. The visual was shot by Chuck Films and edited by DJK Media.
Be sure to Follow: @xpressionthemc
Facebook.com/xpressionthemc
Instagram.com/xpressionthemc
Twitter.com/xpressionthemc
© 2021, JS. All rights reserved.