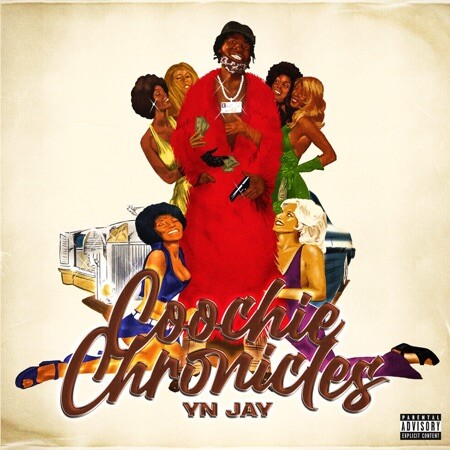 YN Jay has arrived with the release of his latest full-length effort, Coochie Chronicles, which puts his contagious weirdness and innovative, signature flow that he popularized in songs like "Coochie" full display. It's riddled with heaters, including recent bangers like "Oxyyyyy," and his viral TikTok hit, "Triple S," as well as it's remix, featuring a charged up verse from NY starlet, Coi Leray. My favorite tracks are the more laidback, stripped-down cuts like the emotional and melodic ballad "Ashtray." There's also "Distrokid," a dynamic cut where he and his fellow Michigan brethren, Rio Da Yung OG and Louie Ray, send love to the platform that's helped make them bank. Though he portrays himself as a larger-than-life figure on most tracks, he takes time to open up about his past on songs like "Slow Motion," looking back at his life before his meteoric rise through the rap game and pondering what he's lost along the way. 
This tape proves that underneath all the crazy punchlines and insane adlibs, this guy is straight up a great rapper. He keeps you guessing, never knowing what kind of flow he'll pull out of his deep bag of rap tricks next, all while paving a way for one of the most buzzing scenes in the country. Check out Coochie Chronicles, out now via Alamo Records, in full below.
© 2021, Seth "Digital Crates" Barmash. All rights reserved.