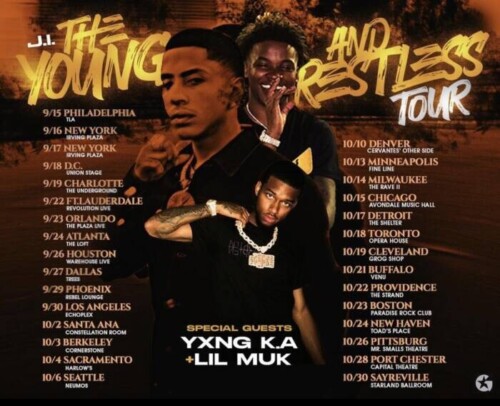 Philadelphia's new hot artist Yxng K.A and Lil' Muk got the game on smash right now! The Philly-bred emcees have been shutting down City Of Brotherly Love stages throughout their Young and Restless Tour. The tour features over 30 cities across the country for the next month. From Philadelphia, New York City, Atlanta, Houston, Dallas, Denver, Detroit, Chicago, Toronto, Boston to Los Angeles,  Yxng K.A and Lil Muk link JI The Prince of NY to kill every stage effortlessly.
Philadelphia is home to many legendary artist. These two together are no different. At at a young age they became passionate about the art of music and have been perfecting their craft ever since. Their impeccable performances creates good energy and a vibe their fans love. Each show is a unique vibe and captures a moment in time. From the way they engage with the crowd to their fiery setlist, they always show up and out!
Usually it takes artists who've been in the game a minute to understand the criteria needed to be a true performer. Newcomers normally need years of experience from traveling to performing before being selling out a month-long tour. But not for these talented emcees.
Their genuine talents are seen at each show thanks to their unique sound and the phenomenal vibe they create on stage. As a result, Yxng K.A and Lil' Muk have been reaching new pinnacles. Stream some exclusive tour footage of them below, to see yourself:
© 2021, alanna. All rights reserved.