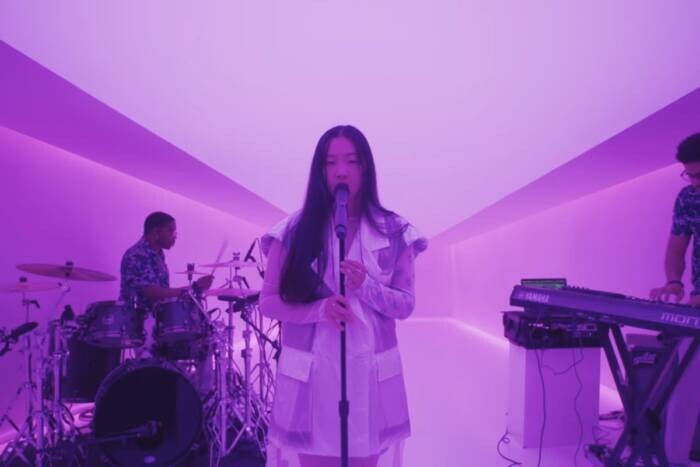 Last month, AUDREY NUNA released brand new video for "Space," which was a fresh change of pace. Now, she's back with an enchanting live performance of this beautiful cut, which comes courtesy of Vevo DSCVR. While being surrounded by purple hues and the melodic sounds of a keyboard and percussion, she smoothly transitions into the opening words.
In the case of her official video for "Space," which was previously released, the work was directed by Loris Russier and showcases Audrey in several stunning scenes, initiating the effort with her completely submerged in a pool while she delves into her gradual, hypnotizing verse. Loris Russier was also the director of "damn Right" video, which is among her most popular hits. The track ensures that the viewers go through a house that is visually enchanting alongside Audrey, while she walks us through many interpretable scenes. "damn Right" comes after one year of tracks, which includes "Time" and the "Comic Sans," which was assisted by Jack Harlow.
Audrey became popular due to her ability to release unique videos, which she has clearly thought about extensively. In March of last year, AUDREY NUNA was named by REVOLT as  "Women To Watch," stating that "Comic Sans" track demonstrates that she can alter the tempo and mix genres in just two minutes.
Do check out AUDREY NUNA's latest performance video for "Space" down below. 
© 2021, Jonathan P-Wright. All rights reserved.