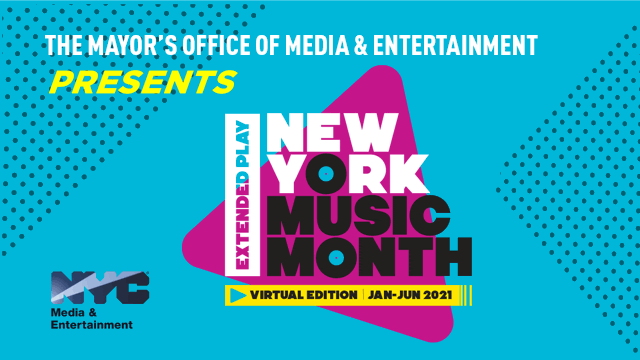 FairPlay and co-sign have teamed up with the New York Mayor's Office of Media and Entertainment (MOME) to host a series of virtual conversations, discussing the evolution of radio and the role in its community, and the origins of hip-hop in New York City.

Get to know some of the area's most beloved NonCommercial Radio Stations (WFUV, WBGO, WNYC, WFMU) and learn more about the work they're doing to connect with their communities, and listen to amazing creatives from Hot97, The Lot, WNYC, and news program Affirmative Reaction discuss programmers' responsibilities beyond the mic. And don't miss stories about the birth of Hip-Hop, and the role New York City (its DJs, radio stations and beyond) played in making it the global culture it is today.

Occurring as part of New York Music Month Extended Play – the free panels promise insightful discussion, engaging back-and-forth, and diverse perspectives from notable figures in the worlds of music and radio.

Schedule of events + more details:

April 8th 5-6pm ET – The Power of NonCommercial Radio and community: From the Inside Out
April 15th 5-6pm ET – New Rules – Reinventing the Reach of Radio
April 29th 5-6:30pm ET – Can't Stop Won't Stop: New York and the Birth of Hip-Hop
WITH GUESTS:
Nicole Sweeney (WBGO), Russ Borris (WFUV), Kelly Drake (WNYU), Duane Harriot (WFMU), Sachi Kobayashi (Public Media For All)
THE CONVERSATION: Meet some of the great people who power NYC's Public Radio Stations. Learn about what they're doing on the day to day at their stations, and how they work to serve their communities. The discussion will focus on what's changed in the last year, and what stations are doing to fight for awareness around Racial and Social Justice issues on and off the airwaves. Stations will also be joined by representatives from the organization Public Media For All, to talk about how we can all do more to encourage diversity through structural change.
Sponsored by FairPlay and New York Music Month Extended Play
WITH GUESTS: Laura Stylez (Hot 97/ENVSN Fest), Polly Irungu (WNYC/Black Women Photographers Database), Xorje Olivares (Affirmative Reaction), and François Vaxelaire (The Lot Radio)

THE CONVERSATION: Radio Stations and DJs have long worked hand in hand with the worlds of activism and organizing. Over time we've seen the evolution of this medium, and have watched personalities create truly innovative roles for themselves on and off the mic to help their communities build and grow. Meet some of the folks here in the city that have already been doing this work, and hear more on why they do what they do. We'll talk about what's changed in the way radio engages with audiences, and what the responsibilities of people who are programmers, DJs and music industry folks look like today.

Sponsored by co-sign and New York Music Month Extended Play
With host Jeff Chang, and panelists DJ Kool Herc, Cindy Campbell, Davey D, Rob Kenner, and pioneers and young voices of the hip-hop movement
THE CONVERSATION: Featuring stories from the pioneering hip-hop family of DJ Kool Herc and Cindy Campbell, whose August 1973 party is commonly cited as the beginning of the hip-hop movement, this event brings hip-hop back to where it started–New York City. Almost half a century later, hip-hop remains the voice of youth and generations of those like Davey D and Rob Kenner who work through hip-hop to advance social change. This panel will talk about hip-hop's roots and why it continues to be one of New York City's great contributions to global culture. Hosted and moderated by Jeff Chang, co-author of "CAN'T STOP WON'T STOP: A History of The Hip-Hop Generation"
About New York Music Month Extended Play:
For the past four years, June has been New York Music Month, the official New York City celebration of the most diverse music scene in the world, with events across five boroughs. This year, however, the city's music scene has been dealing with the pandemic, which has brought almost all live performance to a standstill. In response, MOME has supersized Music Month to include an anticipated 40-plus events over the course of six months, all safe, virtual and free. As always, New York Music Month Extended Play (NYMMEP) will have something for artists, industry and fans, but with an added urgency in order to support our vital music scene at a time of unprecedented concern.

New York Music Month Extended Play will include three main categories of free events: Resources for Musicians, workshops and master classes to help musicians hone their craft and sharpen their business skills; Get Tuned In, programs for music fans such as performances and workshops on topics like music production and podcast creation; and NYMM Talks, conversations with experts that dig into the challenges and opportunities facing the music industry.

For more information about scheduled events visit: www.nymusicmonth.nyc/, and keep visiting as we will be adding programs.

About FairPlay:
FairPlay is a coalition of music lovers committed to ending systemic racism and building frameworks of access, advocacy and support for BIPOC voices throughout the music industry.

About co-sign:
co-sign is an artist development agency specializing in radio promotion, licensing, and brand strategy. The company works with artists, record labels, and brands to execute campaigns focused on commercial music releases, tour dates, and music driven marketing initiatives.