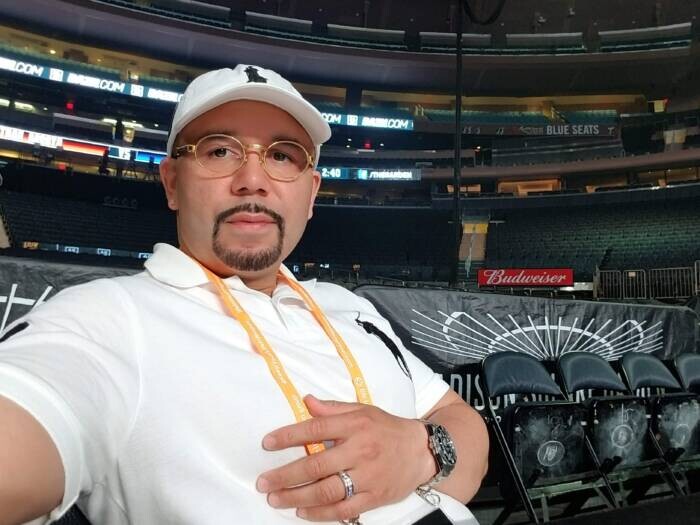 There's a lot happening that you don't see behind the scenes with regards to your favorite artists and sports figures, and a lot of people who make things happen even though they themselves aren't household names. One of those people is Elijah Torres, known as "Mista Bless." Torres started out as a rapper and producer, rapping with a Wu-Tang affiliate and producing for major artists like Saigon and Dead Prez. His rap dreams gave way to him exploring other talents within the industry, and today, he's a digital media consultant in brand development, lifestyle marketing, and artist management. He's worked with industry legends such as 50 Cent, Dead Prez, Oscar De La Hoya, Roc Nation, Fila, Maino, Carmelo Anthony, Reebok, and more.
His growth over the years from artist to someone who develops artists and brands proves that evolution and longevity in an industry known for its short lifespan is indeed possible for those who want career longevity — if they're willing to pivot.
As mentioned, Torres started out rapping, eventually moving on to produce mixtapes with some of New York's most famed rappers, such as Tru Life, Dead Prez, and Saigon. He soon realized he was great at networking — a skill that's invaluable in the entertainment industry.
He used that skill — networking — to create career opportunities around his passion for boxing as well. Torres parlayed his way into serving as the executive producer of the sports section for rap legend 50 Cent's popular This Is Fifty website. He is the executive producer of The Sweet Scientists, a boxing show on DAZN USA, which is a subscription combat sports streaming service. Guests who have appeared on his show include titled fighters such as Anthony Joshua, Terence Crawford, Canelo Alvarez, and Oscar De La Hoya.
His networking game and ability to bring people together and broker deals have served him and his clients well in many other opportunities as well. One of the biggest accomplishments of his career is brokering a successful sneaker collab between platinum hip hop artist Maino and the iconic legacy brand Fila that sold out within hours. He's also set up some other successful pairings, including pairing Olympian Samyr Laine with GNC, and Mob Wives star Karen Gravano with bookstore giant Barnes & Noble.
Today Torres is the president of Hip Hop My Way, a digital community that aims to platform new and emerging independent artists, as well as provide them with valuable resources and assistance in artist development. The platform is co-founded by Saigon.
Torres believes that networking, persistence, and innovation are the keys to longevity in the entertainment industry. "Being creative isn't enough sometimes. Sometimes what's needed is innovation; being able to disrupt an industry with new changes, like we're doing with Hip Hop My Way," Torres said.
Torres invites any interested independent artists to join Hip Hop My Way. 
© 2021, MariaMyraine. All rights reserved.