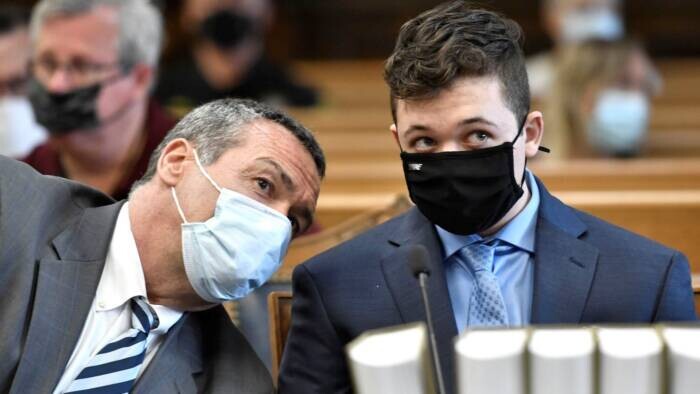 As part of Kyle Rittenhouse's homicide trial, the prosecution plans to introduce additional evidence. Rittenhouse fatally shot two protesters in Kenosha, Wisconsin, last summer. 
In a report by the Milwaukee Journal Sentinel, Assistant District Attorney Thomas Binger stated he obtained a video last week in which Rittenhouse is shown allegedly wishing he could shoot people running out of a CVS. The man believed the people were shoplifters. It appears one of them is carrying a weapon, said the person in the 29-second video clip believed to be Rittenhouse. "Brah, I really wish I had my fucking AR. I would shoot at them," the same person said in the video. 
Despite the fact that Rittenhouse's face was not in the clip, prosecutors believe it is his voice. "The defendant just saw something, jumped to a conclusion based on no evidence, and threatened to kill someone based on his utterly baseless assumption and wrongful interpretation," the motion stated. 
It is crucial to the case that the defendant realizes how to properly use his 'AR' and deadly force, and the video illustrates that he has no hesitation in using deadly force when it is unlawful. 
In addition, prosecutors would like to know who donated to Rittenhouse's legal defense fund, paid bail, or purchased "Free Kyle" merchandise from his family website. They want to avoid adding any of those people to the jury pool for the upcoming trial. Bruce Schroeder has set a hearing for September 17 to hear the motions. 
It is slated for trial in November that Rittenhouse will stand trial for killing Anthony Huber and Joseph Rosenbaum last August during protests erupted following the shooting of Jacob Blake by Kenosha police officers. In addition to attempted first-degree homicide, he is also charged with shooting Gaige Grosskreutz, who ended up surviving. In his plea of not guilty to all of the charges, Rittenhouse maintains that he shot the three men in self-defense. 
© 2021, Jonathan P-Wright. All rights reserved.