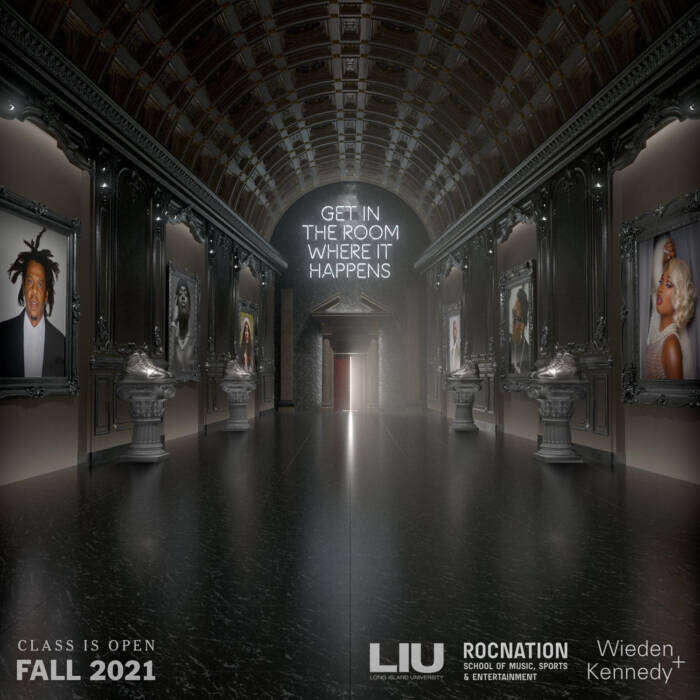 Today, the Roc Nation School of Music, Sports & Entertainment at Long Island University announced that it has tapped global, award-winning advertising agency Wieden+Kennedy (W+K) to launch a new Creative Promotion in Media program starting in the Fall 2021 semester.
The program is designed to help students understand the possibilities of a creative career in advertising and marketing with cultural impact via a versatile array of classes, including "Hood Marketing 101: How Blackness is Bought," "How to Be a Good Troublemaker", and "Nothing is an Accident."
As part of the curriculum, students will be able to discern the difference between creative impact and traditional creative work, while drawing knowledge from some of today's most unconventional creative practitioners. The faculty at the Roc Nation School of Music, Sports & Entertainment will look to help break down the barriers of entry into the creative industry and bring in unique perspectives from all corners of the world.
"Through our partnership with Wieden + Kennedy, we are offering Roc Nation School of Music, Sports & Entertainment students unique and true value as well as deep insight into the creative world, which will benefit them regardless of their career path," said Long Island University President, Kimberly R. Cline.
Wieden+Kennedy is best known for creating Nike's "Just Do It" campaign, but the agency has also collaborated with several of the world's pre-eminent brands, including Anheuser-Busch InBev, The Coca-Cola Company, Delta Air Lines, Ford, KFC, KraftHeinz, McDonald's, Procter & Gamble and Samsung.
Most recently, Wieden+Kennedy worked with McDonald's to introduce the custom Travis Scott, J. Balvin and BTS meals, collaborated with Bud Light on the viral "Dilly Dilly" campaign and spearheaded Nike's "Dream Crazy" efforts, with the memorable line "Believe in something, even if it means sacrificing everything."
"How culture gets made is mostly a mystery," said Michael Hagos, Creative Director at Wieden+Kennedy. "We want to show more people how to get in the room, how to claim a seat at the table, and how to channel their unique voice and creativity to solve business problems."
Students will have the opportunity to learn from Wieden+Kennedy's diverse staff – whose work spans backgrounds of all types – including Hagos, Head of Planning Dr. Marcus Collins, Social Copywriter Courtney O'Donnell, and Filmmaker and creative Tania Taiwo, to name a few.
This announcement comes on the heels of Long Island University's announcement that super producer 9th Wonder, award-winning musician Sam Newsome and renowned vocalist Colin Levin would join the faculty of the Roc Nation School of Music, Sports & Entertainment and serve as instructors.
Most recently, Grammy Award-winning musician and entrepreneur Megan Thee Stallion announced plans to provide a full-tuition, four-year scholarship for a student looking to pursue their education at the Roc Nation School of Music, Sports and Entertainment this upcoming semester. Prospective students looking to enroll in the school in the fall can still apply for the scholarship opportunity at apply.liu.edu/rn.
© 2021, Seth "Digital Crates" Barmash. All rights reserved.