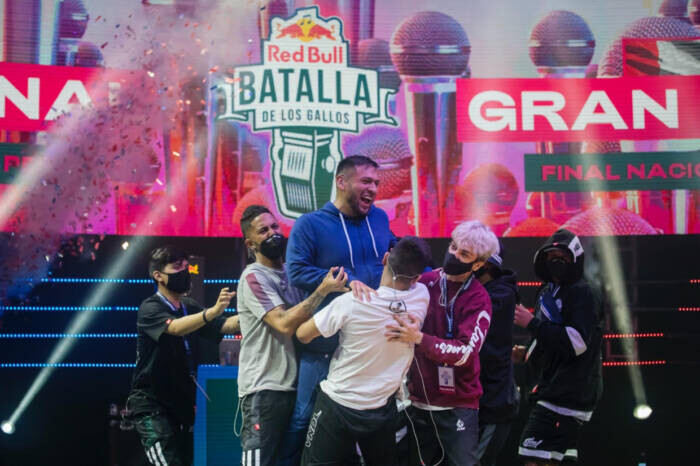 The largest Spanish freestyle rap battle in the world, Red Bull Batalla,  announces the U.S. qualifiers, 36 of the country's most dynamic lyricists, who have been selected to battle-it-out in this year's competition. Also announced today, Batalla is sharing the official schedule for the 15th anniversary season, including dates and details for the U.S. Finals which will take place in Los Angeles, CA on September 18 ahead of the Batalla World Finals.  
This Year's U.S. Competitors
Following a record-breaking 2020 season, Red Bull Batalla has selected the latest batch of top Spanish-freestyle MCs from every pocket of the U.S. Each MC submitted a freestyle video flexing their lyrical skills during the application phase in April, and these submissions were judged and ranked by a panel of experts. Rappers selected include Red Bull Batalla veterans such as OG Frases from Miami as well as Boss and Chester, two returning qualifiers from Los Angeles. Please find a full list of qualifiers and returning finalists announced today below.
Fan favorites and new talent will have the chance to compete to take the Batalla 2021 crown, the biggest prize in Spanish-speaking freestyle rap. New to this season is on-the-rise talent like G.I.O, MAU, and Piwie, who has never performed live. 
In addition to these up-and-coming hip-hop stars, the top three finalists from the 2020 competition—Yartzi, last year's U.S. Champion from Puerto Rico, El Dilema a 2020 finalist from New York, and Jordi, who ranked third in 2020—are all invited to return directly to the U.S. finals.
Twitch Battles | August 12
In this bracket-style battle event, the Qualifier Phase will pit the 36 ferocious freestyle competitors face-to-face in battles captured in Austin, Los Angeles, Miami, and New York.  who qualified will go round for round showcasing their most impressive bars in hopes of advancing as one of the 13 most dynamic lyricists who will move forward. 
These 1v1 battles will be reviewed by a special panel of judges during a live event on the official Red Bull Batalla Twitch channel taking place on August 12 at 4pm PST/7pm EST: https://www.twitch.tv/redbullbatalla. The panel of judges, including former Batalla competitors Tito Yang, Kim MC, and Cuban rapper El B, will evaluate the talent and skills of the MCs and decide if one, both, or none of the competitors is selected to move on to the USA National Final. Judges will assess the freestyle ability of each individual MC, and not who beats whom. Multifaceted Argentinian artist and media professional Muphasa is set to host the live Twitch event. 
U.S. Finals | September 18
The 13 finalists who emerge from Red Bull Batalla Twitch Day victorious will go on to compete with the three returning finalists from 2020 for the U.S. Red Bull Batalla Championship, on September 18 in Los Angeles. During the competition, 16 will become one as the 2021 U.S. Red Bull Batalla Champion is crowned.
World Finals | December 11-12
Following the U.S. National Final, the respective champions from over 10 countries including the U.S., Mexico, Spain, and Colombia, will square off for the Red Bull Batalla World Final – where only one contestant can be crowned the 2021 Red Bull Batalla World Champion.
The Livestream of the 2020 Red Bull Batalla World Finals was watched by over 1.5 million concurrent viewers, making it one of the two most-watched music live streams of the year (source). To relive 2020 highlights, head to the Red Bull Batalla website Red Bull TV Batalla. 
To learn more information about the 2021 Red Bull Batalla season, go here.
For photos from Red Bull Batalla, head over to Red Bull Content Pool. To get the official Red Bull Batalla merchandise to represent your passion for the largest Spanish rap tournament, head to Red Bull Shop US.
Full List of Qualifiers
ABOUT RED BULL BATALLA
Red Bull Batalla is a global freestyle rap competition that, since 2005, has provided a platform for the best hip hop improvisers in the Spanish world to connect, develop and compete. Within the last few years, the Red Bull founded project has become the world's biggest international freestyle battle competition, uniting Spanish Latin America, and Spain. 
The roots of this improvised rap scene are as deeply connected to hip hop as they are to the improvisation styles of traditional folk troubadours. It has evolved into a style completely distinct from that of hip hop in North America.
With Red Bull Batalla, Red Bull gives an opportunity for young MCs to train, perform and improve their improvisation and rapping skills.
© 2021, Seth "Digital Crates" Barmash. All rights reserved.