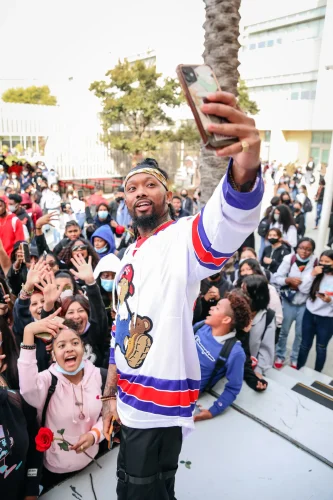 In the humble city of Corona, California, just an hour east of LA, there lies an artist looking to blaze his own path. The name 'Najih' might be new to some, but that won't be for long as he strives to make a name for himself as a recording artist and an entrepreneur.
Najih is an artist from the Inland Empire who founded his own record label, Inland Records. With Inland, Najih's mission is to provide a platform for talented creators in the Inland Empire. Najih is not a novice when it comes to the music industry. He started making music in high school and decided to ditch his opportunity to play college basketball and embark on the journey of becoming a global artist. Since then, Najih has released a number of projects, most notable, Growing Pain, Toxicity, and Trap Poetry. He's opened for Nipsey Hussle and Chief Keef and has even charted nationally.
After experiencing the ins and outs of the music industry, Najih decided to make his own mark and created Inland Records. With Inland Records, Najih has built a team that handles all aspects of the music business, from artist management and development, photography, videography, and audio engineering. Besides operating as a record label, Inland also gives back to the community with an annual food drive that serves to feed the less fortunate. Inland Records also has an internship program where they work closely with community colleges and universities to provide hands-on opportunities for individuals interested in working in the music industry.
Inspired by the likes of Master P and Nipsey Hussle, Najih hopes to build a powerhouse brand around Inland that will allow light to be shed on the often overlooked Inland Empire. In regard to music, Najih just released his new single "Like This" and plans to drop a mixtape titled "A Work in Progress" at the beginning of the new year. With this project, Najih hopes to show the world his musical talent and get himself established in the industry as a recording artist. Stay tuned to Najih and Inland Records as they are on a journey to become the next big thing.
© 2022, AMMPRO. All rights reserved.