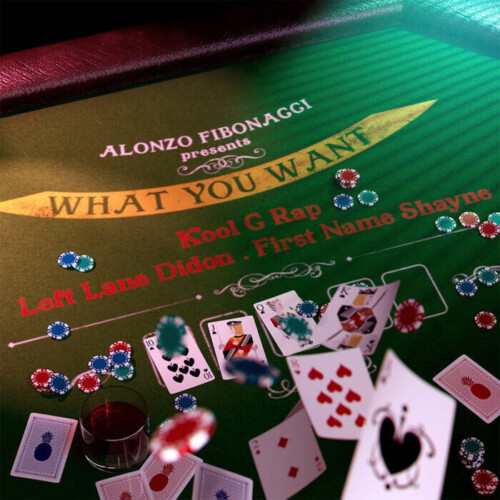 Producer duo Alonzo Fibonacci is back with a brand new single titled "What You Want" featuring legendary New York artist Kool G Rap, Left Lane Didon, and First Name Shayne. Like Steph Curry draining 3's at his advanced age in the NBA Finals, the track is the epitome of "wow he still got it" for G Rap. Ironically, just like Steph, Kool G Rap is largely credited with changing the rap game thanks to his laid back flow which other rap legends such as Jay- Z, Nas, Eminem, and Raekwon were heavily influenced by. In 2022 he isn't shaping the way the new generation will rap anymore, but he's still cooler than a cucumber in French Montana's cabana on this track with lyrics like, "one in the head, assault rifle on the water bed, all fed weapons, bullet belts get torn to shreds, hidden wall safe to store the bread". Left Lane Didon, and First Name Shayne mightily contribute to the track as well holding their own raising their stock as they can now correctly claim to have gone bar for bar with one of the best rappers of all time over an outstanding Fibonacci beat.
Alonzo Fibonacci's "3" EP is three songs featuring a bevy of incredible acts such as Chris Rivers, 7xvethegenius, Left Lane Didon, First Name Shayne, and stacked with legends such as Billy Danze, Bay-C, and Kool G Rap.
For more info check out:
@alonzofibonacci on all socials
© 2022, Seth Barmash. All rights reserved.