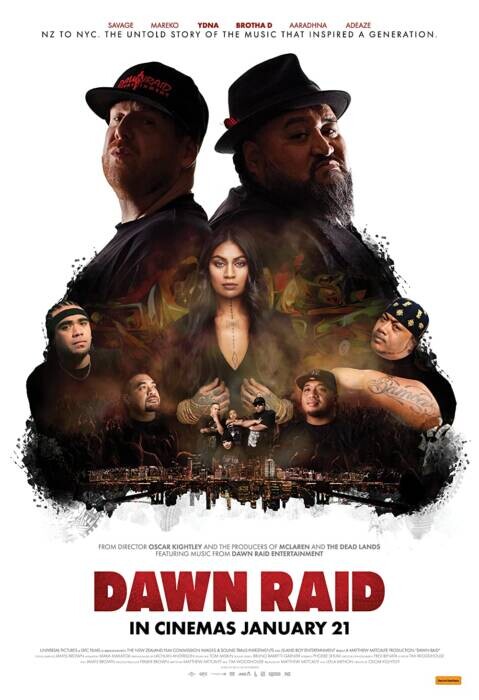 Universal Pictures just dropped a new Hip-Hop feature documentary called DAWN RAID. It tells the untold story of Kiwi record label Dawn Raid Entertainment and the generation of Kiwi and Polynesian artists they put on the world's stage. The film features founders Andy & Brotha D, the unlikely duo behind some of New Zealand's biggest hip-hop and RnB artists including Savage, Mareko, Adeaze, and Aaradhna. The film also has interviews with Judd Apatow, Savage, Scribe, Mareko, Adeaze & Aaradhna, and unseen archive footage of Akon, Wu-Tang Clan, Snoop Dogg, and other hip-hop legends.
From humble beginnings selling t-shirts on the streets of South Auckland, Andy Murnane and Brotha D formed a legendary partnership that would defy the odds and become music royalty both at home and across the world.
In this exclusive interview with HipHopSince1987 New Zealand Hip-Hop legend, Andy Murnane talks to Digital Crates about the legacy of Dawn Raid Entertainment. From New Zealand to New York City the impact of Dawn Raid has been documented in an amazing new movie called "Dawn Raid" online everywhere now. In this interview, they talk about the legacy and impact made during the true school era of Hip-Hop all the way to the present day. Starting out selling merchandise Andy Murnane and Brother D turned their hustle into a cornerstone of international Hip-Hop culture.
Inspired by the Hip-Hop movement in America it was the crossover groups the Boo-ya Tribe and OMC that inspired the Dawn Raid movement. They were inspired further by the indie label blueprint model of Rap-A-Lot, Rocafella, Loud Records, and others that showed them they could make a label work in New Zealand. The Dawn Raid name is politically influenced and fueled by the credo of owning your own master recordings and being a self-sufficient operation.
Their journey had many ups and downs punctuated by some amazing collaborations and experiences all documented in the film. Early collaborations with Wu-Tang, DPG, and other iconic artists helped them to start charting and getting number one records as well as gold and platinum plaques with solid album sales. Motivated by their success and failures they are still working on spreading positive messages through great Hip-Hop music.
© 2022, Seth "Digital Crates" Barmash. All rights reserved.