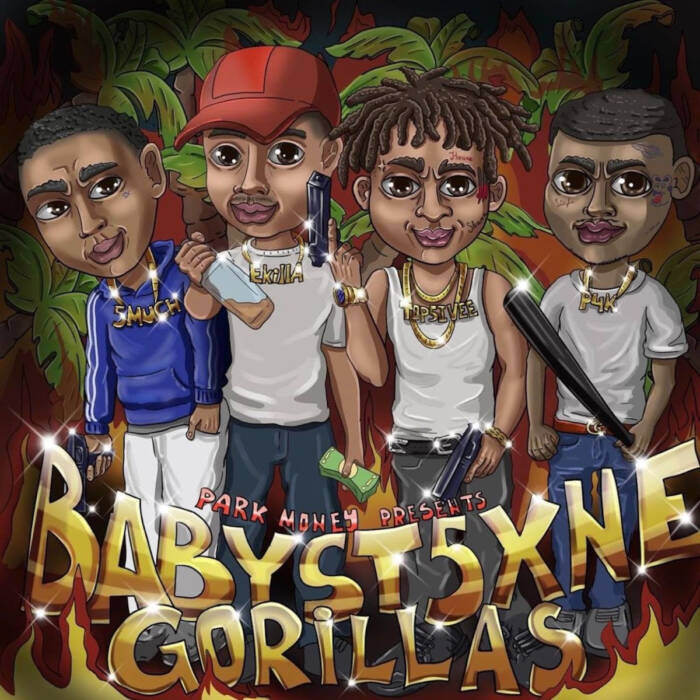 With their versatile group dynamic and effortlessly electric approach, Baby Stone Gorillas make every track feel like a prized posse cut, with Top5ivee, P4K, 5Much, and EKillaOffDaBlocck each offering a unique take as the rap representatives of the South LA streets.
the Baby Stone Gorillas assemble once again to share "Start Sumn," the latest music video from their recent debut mixtape, BABYST5XNE GORILLAS. Over sinister, slow-burn, RonRonTheProducer production, the SoCal quartet runs a rap relay of increasing explosiveness with each baton pass, best exemplified by 5Much coming out swinging with the line, "I was never good at math, but you can't match my skills."
The "Start Sumn" video perfectly captures the essence of each BSG member, with Top5ivee posting up with his personal cash register, 5Much blowing blunts on a red-tinted throne, P4K doing his one-man money dance, and EKilla idling at the arcade because he doesn't play games. Though the clip offers a glimpse of each member in their element, the group shines brightest when they're together, huddled atop a police cruiser like the floor is lava.
The side-splitting, YourJustNTime-directed "Keep Goin" video opens on a sunny Sunday morning at the house of worship as the impassioned pastor preaches to the "sinners, gangsters, lovers" in attendance. Whether dealing with hard times, as he tells 5Much, or turning up in Vegas, as he tells Top5ivee, his sermon remains the same: "keep going!" Taking the altar to give praise with their performance, the BSG crew vibes with the spirit-sipping worshippers in attendance as they deliver some of their most potent proverbs yet, with 5Much rapping, "Asked Killa, 'How high is that?' and he said 'High as f***'/Sometimes I look up in the sky and I look high up."
In this exclusive interview with HipHopSince1987 rising stars of the west coast, the Baby Stone Gorillas talk to Digital Crates about their recent rise to fame. They got their start recording together and when listening back they knew they had something special cooking up. They represent their hometown with their name which was given to them by their fans. They are appreciative and humbled by their movement but with that said have lofty goals moving forward.
Their sound is fresh and it developed quickly, and as a group, they are flush with hot production and beats to build their career. They keep their work releasing at a rapid pace to keep the energy going within their fanbase as they continue to build on an international following.
They are lyrical and authentic in their rhymes. Their songs are based on a feeling from when they hear the beat and as a group with various voices they blend together perfectly in a variety of production. They make it look easy to balance music, videos, social media, and life. They stay positive and motivated through struggles and as a group they help each other to jump over hurdles. Their new music is upgraded and they have a bunch of features from other really important new artists.
Their videos are cohesive and are an integral part of their success as their youtube page is flooded with high-quality work. Their team is built on loyalty, learning, and hard work. Look for much more music and visuals from Baby Stone Gorillas in 2022 as they continue with their prolific output.
© 2022, Seth "Digital Crates" Barmash. All rights reserved.