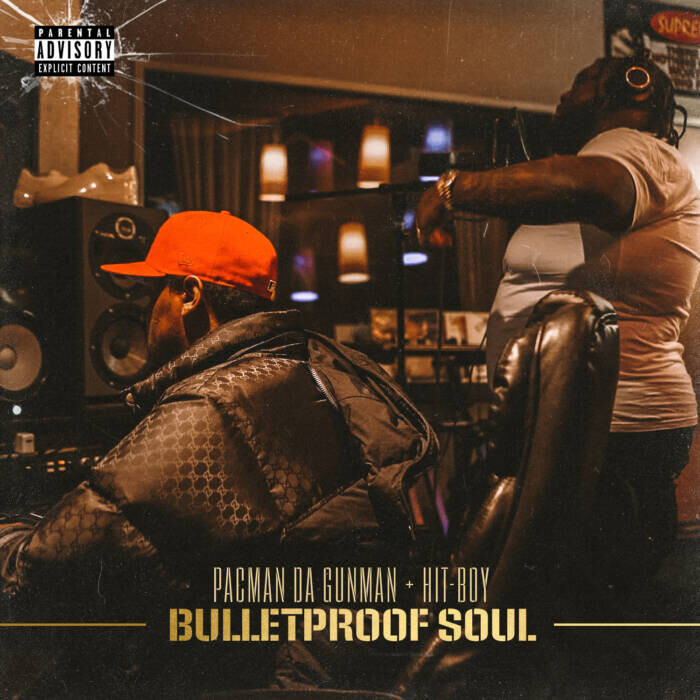 Above everything else, Pacman da Gunman is a man of principle with a bulletproof belief system. The South Central rapper will never do something just to do it, everything is calculated and intentional, nothing is forced. When Pacman connected with Hit-boy the musical chemistry was undeniable. Having heard the classic records like "Racks In The Middle" Hit created with Nipsey Hussle in the past, and Pac being Nip's protege, the fit was natural. The two began working on a then untitled project, producing nearly twenty songs and eventually choosing the best nine. To say Hit-Boy was in his zone would be an understatement, this project was being recorded at Chalice Studios during the same time Nas was recording Kings Disease. Pac knew when he left the studio God's Son was coming in right after him and he wouldn't allow his sessions to be any less prolific.
'Bulletproof Soul' is a powerful statement made by Pacman da Gunman to stake his claim at the top of the West Coast rap food chain. A man with a teflon reputation, lyrics and flow to match. The album is named after one of his favorite songs by Sade, and as a reference to Nipsey's lyrics on Victory Lap "Hunnit proof flow, run and shoot pro, 458 drop, playing Bullet Proof Soul". The nine-track album takes you on a ride from brash gangster rap on "Banging Late" and "Cold Nights on 60th St" to braggadocious tracks like "New Heat" with J Stone, to relatable relationship songs "Find a Balance" with Dom Kennedy and lastly vivid storytelling on "Till We Meet Again" which details his point of view on March 31st 2019 when his dear friend and mentor Nipsey Hussle was slain outside the Marathon Store. March 31st isn't a day of celebration, but a day of reflection and 3 years later, with Hit-Boy and Pacman releasing an incredible body of work, it is clear the marathon continues.
© 2022, Seth "Digital Crates" Barmash. All rights reserved.