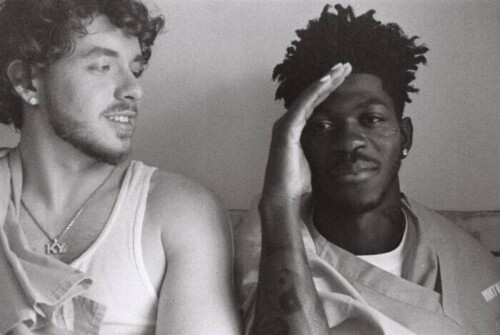 After his April Fools' Day joke about Rihanna's retirement went wrong at the Grammy Awards, Lil Nas X, 22, has redeemed himself.
With Lil Nas X dressed in a Michael Jackson-esque outfit, Jack Harlow appeared on stage with Lil Nas X to perform their Billboard No. 1 song, "Industry Baby." Talking about the performance on the red carpet, Harlow declined to disclose any details because he felt that was not his place to do so and thanks Lil Nas X for the vision. In all-black attire, the two looked very suave on stage as they played a few choreographed moments.
It begins with Lil Nas X being sentenced to 5 years in Montero state prison, as Lil Nas X can be seen in the video racking up over 320 million views on YouTube since its release in July 2021. This clip continues to show the singer's fit physique while showing off his "couple Grammys." Grammy will present the song with the award for Best Melodic Rap Performance tonight.
It seems that Lil Nas X's music video nominated for Best Music Video is the result of a confrontation he had with critics who had negative things to say about his "Montero (Call Me by Your Name)" song. Ironically, the song is also nominated for Best Rap Song. It was evident that Lil Nas X was loving himself in the music video as all the songs were different versions of him. Nevertheless, the infamous scenes where "Montero" slides down a pole into hell and finally dances on Satan's lap raised a few eyebrows.
In the days leading up to music's biggest night, Lil Nas X warned that if the grammys were not won, he would formally relinquish his position to the Illuminati. Regardless of the night's outcome, we're confident the "Old Town Road" singer will still be in high spirits.
© 2022, Jonathan P-Wright. All rights reserved.