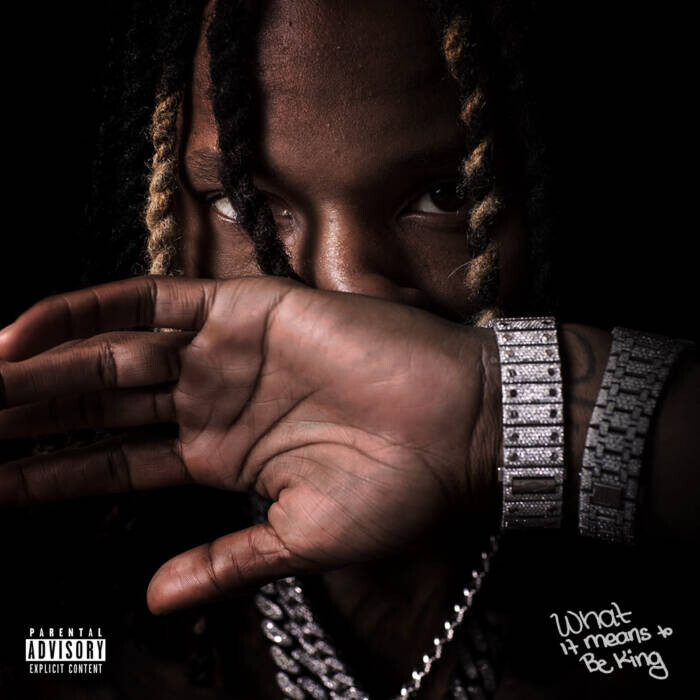 Telling crazy stories with a breathless intensity and vivid attention to detail, King Von made a major impact in the rap game and in his native O'Block during his too-brief time in the spotlight. Adding a new chapter to the late artist's career, King Von's estate partners with Only The Family and EMPIRE to release What It Means To Be King, a testament to Von's continuing legacy. A labor of love that compiles unheard music from the artist's oeuvre, What It Means To Be King is packed with the ferocious bars and gripping narratives that earned him a huge fanbase, but also hints at some of the directions he might have taken if he had more time. The album features contributions from many of the people who knew Von best, including regular producer and collaborator Chopsquad DJ, his "twin" Lil Durk, and fellow O'Block natives like Boss Top and DqFrmDaO, along with street rap heroes like like 21 Savage, Moneybagg Yo, G Herbo, and more, making plain the level of respect Von commanded in the rap game at large.
What It Means To Be King opens with "Where I'm From," a harrowing and emotional origin story for Von, illustrating his mindset as he languished in jail, helpless to prevent the deaths of his friends like O and J.R. To Von, to be a leader, or a king, meant to shoulder the weight of his neighborhood on his shoulders–when his O'Block heroes died, Von knew that it was up to him to stand up for his home neighborhood wherever he went. Following in the wake of the formidable intro, the album paints a full picture of Von's formidable artistry, with songs that range from the fiery recent single "War," the vicious Brooklyn-style drill of "Straight To It" ft. Fivio Foreign, and the melodic and romantic "My Fault" ft. A Boogie wit da Hoodie. Also of note is "Evil Twins," a sure-to-be fan favorite that reunites the tag team of King Von and Lil Durk, and "Grandson For President," a beloved freestyle that first surfaced on YouTube in Summer 2020 (36+ million views to date). The album ends with "Family Dedication Outro," a beautifully simple track that demonstrated how much Von loved his family, and how much he was loved in return.
The album is home to "Don't Play That" ft. 21 Savage, a banger that is already one of the late artist's most successful singles to date. "Don't Play That" was an immediate success, generating 1.4M+ Apple Music streams, 1.2M+ Spotify streams, and 1.1M+ YouTube streams in just the first 24 hours of its February 4th release. Since then, "Don't Play That" has racked up tens of millions of streams, including 15+ million on Spotify and 6 million on its animated video, and debuted at #40 on the Billboard Hot 100, marking Von's highest-ever chart position. The song currently sits at #86 on the Hot 100 and at #25 on Billboard's Hot Rap Songs chart. With additional appearances from  Dreezy, on the heartfelt "Hard To Trust," and OMB Peezy, on the hyperactive and lyrical "Get It Done," plus production from ATL Jacob, What It Means To Be King is available everywhere via Only The Family / EMPIRE.
What It Means To Be King puts an exclamation point on Von's legacy, confirming his status as the best storyteller of his generation. A worthy follow-up to Von's GOLD-certified debut Welcome To O-Block, the upcoming album is a bittersweet treat for fans, and a moment of closure for those who loved him most.
Buy/Stream What It Means To Be King: http://music.empi.re/whatitmeanstobeking
© 2022, Seth "Digital Crates" Barmash. All rights reserved.