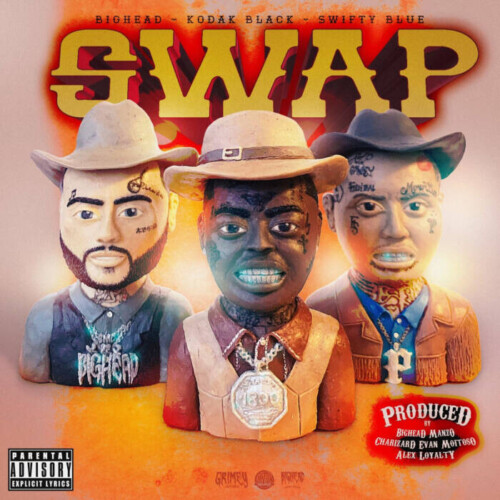 In July of 2022, Kodak Black showed up to Los Angeles and decided to call up Swifty Blue. Meanwhile, multi-platinum Producer Bighead wanted to play the artist affectionately known as Yac some beats. Kodak loved one beat in particular, and recorded it while Swifty was in the studio. The result of all these series of fortunate events lead to a track titled "Swap for a Swap". Kodak effortlessly slides over a vibrant track (co-produced by Bighead Manzo, Charizard Evan Moitoso and Alex Loyalty) with a bubbly melody. Kodak even name drops Swifty stating "I'm in LA with my ese's baby call Swifty" followed by an aggressive Swifty Blue verse where he claims any opps of Yac are opps of his now. The artwork are actual clay mold busts of Kodak Black, Bighead and Swifty Blue with insane details including tattoos and chains.
This release comes only two months after Swifty's predominately Spanish album "Elevacíon", further proving his work versatility and work ethic. "Swap for a Swap" is released via Los Angeles based label OTR Records.
© 2022, Seth "Digital Crates" Barmash. All rights reserved.