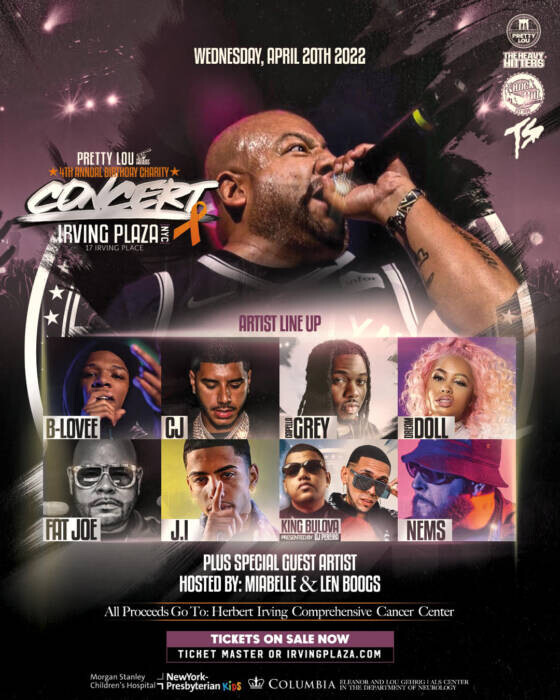 The Heavy Hitter from HOT 97, Pretty Lou is bringing back his 4th annual birthday and benefit concert for cancer research on Wednesday, April 20, 2022. The lineup at Irving Plaza in NYC includes the likes of Fat Joe, Dream Doll, B-Lovee, J.I., Nemz, CJ, and Capella Grey.
"This concert is a symbol of strength and unity in his respective battle against cancer," Lou states, " Braising awareness with the annual benefit concert, it relit his fire to fight back against cancer and win. This year, the event celebrates his remission, but more importantly, to celebrate all cancer survivors and show that cancer can be beaten."
The previous three concerts raised a total of 125k from ticket sales to direct donations. All proceeds are donated to the New York Presbyterian Hospital. Half of the proceeds go to the Children's Cancer Hospital and the other half is dedicated to ALS Research.
Pretty Lou has received tremendous support from Fat Joe throughout his battle with leukemia. "Fat Joe plays a strong part in my support system along with having a mentor/mentee relationship," exclaims Lou.
This year's lineup was chosen personally by Lou. Upon outreach, all were interested in supporting and raising funds to help the fight.
Tickets are on sale now and the doors open up at 7 pm.
Purchase your tickets on Ticketmaster -> HERE
© 2022, Seth "Digital Crates" Barmash. All rights reserved.