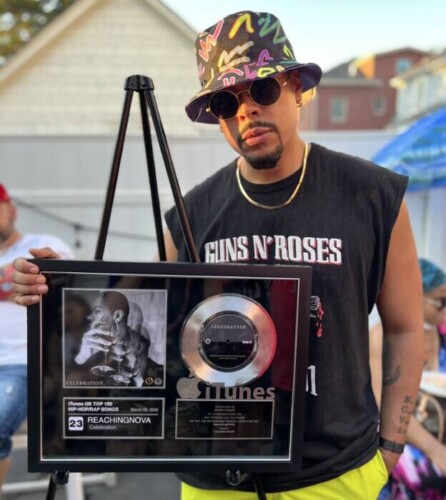 The artist is also about to release more collaborative music that will make a big splash in the global hip-hop community.
ReachingNOVA is an artist with a focus on creating music that blurs the lines between a wide range of influences and styles. He recently announced the release of a brand new album titled "Becoming Timeless." The soon-to-be-published album is going to be a perfect example of ReachingNOVA's excellent creative balance. The songs on the album showcase the rapper's one-of-a-kind personality and his ability to make music that sets the bar higher in terms of personality and innovation.
Having said that, the party kind of started before it even began! ReachingNOVA hasn't even released the full album yet, but he is already making waves with some of the music that will be featured on the release. The "early taste" singles that have been released prior to the album's official street date have been drawing a huge audience and a big crowd, with people immediately latching onto ReachingNOVA's new sounds and vibes.
ReachingNOVA's first two singles from the album have already topped the charts, highlighting the artist's fast-growing fanbase and success. These songs stand out as a perfect representation of what people can expect from ReachingNOVA and from "Becoming Timeless" as a new creative milestone for the artist. The singles are called "Celebration" and "Finding Peace." Both songs are incredibly genuine and heartfelt, featuring strong content not only in terms of production but also in terms of ReachingNOVA's wonderful performance. "Celebration" actually entered the iTunes UK Top 100 chart for the Rap/Hip-Hop category. It reached the 23rd position, and it reached a strong audience, which is discovering ReachingNOVA's music for the first time! The artist also dropped another song from the upcoming album, as mentioned earlier. The second single, "Find Peace," also managed to enter the Rap/Hip-Hop songs chart on iTunes in the UK, scoring 53, a really high number as well! 
In addition to the two chart-topping singles, the artist is also going to drop more music on August 12th, 2022. The upcoming single is titled "Pusha Preme." As the name of the song suggests, it is going to feature none other than Tampa Bay's very own, Pusha Preme. This is going to be yet another example of excellence, energy, and electricity that's found in ReachingNOVA's music. The ambitious artist has topped himself with this release, as the whole album is undoubtedly on its way to becoming regarded as one of his biggest achievements to date. The chart-topping singles have been creating quite a buzz on the upcoming record as of late. In addition, many hip-hop fans are really looking forward to hearing with Pusha Preme is going to sound like on the upcoming collaborative single. This collaboration between two legends is definitely going to be another quality landmark in ReachingNOVA's growing discography, and it is already sparking a lot of interest in the rap community internationally. This album is a much-needed breath of fresh air in the hip-hop community, and it offers a unique combination of sounds and influences that bring something new to the genre while being tied to its roots and staple tones.
Find out more about ReachingNOVA and listen to "Becoming Timeless." This release is going to be available on all digital streaming services from September 23rd, 2022 and on TheNovaConcept.com
https://open.spotify.com/artist/4LzgU0sZY6IaNsnxwoJnW3?si=QrbjGyGwQia72S8JtAyvoQ
© 2022, Logan. All rights reserved.