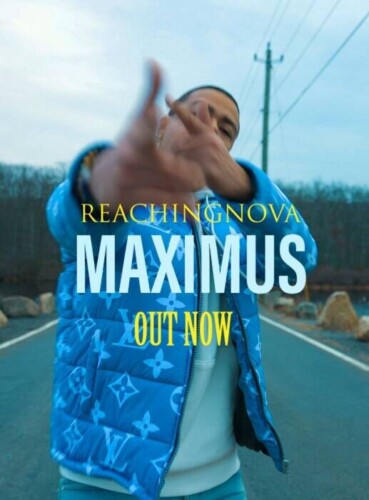 ReachingNOVA stands out from other rap artists in the music industry. Not only is he impressive due to the sheer quality of his music, but also because of his ability to focus on the business side of making strong records and reaching beyond his core audience. Overtime, the artist built a network of amazing collaborators and fellow talented individuals to prop each other up and support each other's work. ReachingNOVA and his collaborators understand that success is rooted in synergy, not competition! The artist's most recent music video for the song MAXIMUS is a perfect example. The visual is filmed in the Catskill area of New York by long-time creative partner, Geo The Architect, who edited the video as well, and did a phenomenal job at capturing the spirt of the song! With the inclusion of inspiring public figures from Kobe Bryant, to Connor McGregor, Anthony Robbins, The Rock, Jesus Christ, and so many others seen in the video, it's evident ReachingNOVA aspires to ahieve greatness along similar lines, which he is already doing through his music whether people see it now or recognize it later.
Musically, the production has a sparse, yet dense sound, with a strong focus on the backbeat and some captivating ambient textures. The vocals cut through, offering presence and articulation. In addition, there is room for a melodic chorus with vocals and an R&B flavor by the Romaninan vocalist, Diastrid, who brings so much spice to the mix! This is a song that will certainly appeal to hip-hop fans and those who like music made for the soul, but it also has the potential to crossover and entice listeners of all background due to the perfect balance of melody, flow and energy on tap. This is yet another incredible achievement for ReachingNOVA and Geo The Architect, and a hint at some more amazing things to come next for the two creatives!
Check out the music video for MAXIMUS below.
If you happen to be in the New York area, be sure to catch ReachingNOVA's upcoming show in Brooklyn! The rapper will be performing at Brooklyn Music Kitchen in New York City on April 8th, 2023.
You can buy your tickets here: https://www.eventbrite.com/e/reachingnova-live-at-brooklyn-music-kitchen-tickets-542883969567
https://www.instagram.com/reachingnova/
© 2023, Logan. All rights reserved.