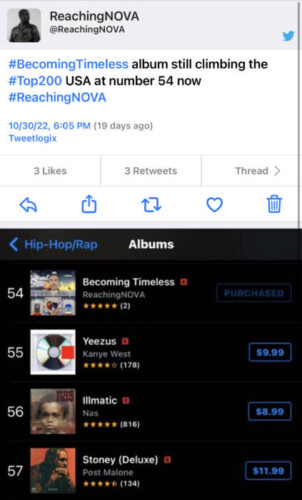 The album continues to gain new listeners and boost the artist's profile and reputation on streaming services and social media.
Some artists are looking to chase trends and ride the wave of whatever style or sound is popular at any given time. Others, however, have a much different vision. They work hard to build their own sound and leave a true musical legacy, one song at a time. Rap artist ReachingNOVA definitely belongs to the second category. The artist is a true go-getter, and his most recent studio album, "BECOMING TIMELESS", stands out as a massive achievement that has been making headlines as one of the best hip-hop records from an up&coming artist in the genre in 2022. The record is most definitely getting the credit it deserves. "BECOMING TIMELESS" has indeed peaked at #54 in the USA's Top 200 Hip Hop tracks. This groundbreaking achievement is a testament to ReachingNOVA's artistry and the appeal of his vision overall. "BECOMING TIMELESS" is a very diverse hip-hop record, which showcases ReachingNOVA's kaleidoscopic creativity and ability to break the boundaries of the genre. The album kept making waves, and eventually entered the chart at #111. Eventually, the record kept climbing chart positions, settling at #54 and going up against some incredibly good albums. ReachingNOVA had fierce competition in the charts, but his work managed to stand out. The record is also home to two singes that climbed the charts as well:  Celebration (#23), and "Finding Peace" feat Diastrid (#54) in the UK Top 200. Chart success aside, "BECOMING TIMELESS" is an album that rightfully deserves all the attention that it is getting in the hip-hop community. This release looks up to the golden age of hip-hop for pure inspiration. Still, it is not a nostalgic release that tries to settle for a classic old-school vibe just for the sake of it. There is a deep concept that ties every bit of lyrics, every beat and every element that adds to the vibe of the album. ReachingNOVA created an album that is a true musical journey; a listening experience that all bonafide hip-hop fans are most definitely going to appreciate on a different level. 
As the year is coming to a close, ReachingNOVA is undoubtedly making plans to go even harder in 2023, as he shows absolutely no signs of slowing down. As with some of the best rap artists out there, he loves to constantly explore new ideas and challenge himself creatively, using his songs to express himself and to entertain people; even when they don't necessarily have a background in the hip-hop community as a whole. It's all about the passion!
Find out more about ReachingNOVA and listen to "BECOMING TIMELESS" on Spotify, and other digital streaming services.
https://twitter.com/ReachingNOVA
https://www.instagram.com/reachingnova/
© 2022, Logan. All rights reserved.