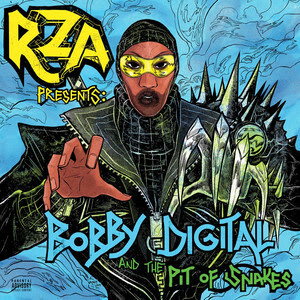 RZA Brings Back Alter Ego Bobby Digital with New Graphic Novel and Soundtrack, RZA Presents: Bobby Digital and The Pit of Snakes, on July 22, 2022
Preorder Available Now
First single, "We Push" Out Today
Rapper, producer, actor and filmmaker RZA brings back his alter ego, Bobby Digital, once again for a brand new graphic novel and soundtrack, RZA Presents: Bobby Digital and The Pit of Snakes, both to be released on July 22, 2022.  Fans can preorder the graphic novel here and the soundtrack here.
The first single, "We Push," by Bobby Digital featuring Stone Mecca, is out today, and was co-produced by RZA and Stone Mecca.  Watch the visualizer, featuring artwork from the graphic novel, below.
The 8-song, sweeping soundtrack will be released via 36 Chambers ALC/MRNK and merges hip hop, indie rock and soul to complement and highlight the storyline of the graphic novel, written by RZA, Vasilis Lolos, and Ryan O'Sullivan.  Lolos, who also illustrated the graphic novel, created the soundtrack cover art.
RZA says, "The character Bobby Digital getting his first official first graphic novel is a long-overdue achievement. Growing up as an avid comic reader, it's an honor to add my creativity to this amazing platform of storytelling. Z2 Comics understands that music artists resonate in the comic book/graphic novel world and this relationship is destined to grow."
The graphic novel, RZA Presents: Bobby Digital and The Pit of Snakes, will also be released on July 22, 2022 via Z2 Comics.  From the mind of RZA, the story follows Bobby Digital as he embraces his id, ego and superego and embarks on a quest to figure out the nature of his reality and himself.
Z2's Joshua Frankel says, "As a longtime fan of RZA and his musical legacy, there was nothing more flattering than the chance to collaborate on this graphic novel and witness it inspire a brand new record of the same name. Skillfully harmonizing music and story is the ultimate goal of our Z2 music books, and there is no better example of this than RZA Presents: Bobby Digital and The Pit of Snakes."
Z2 Comics is offering several exclusive bundles of the graphic novel in addition to the regular release, including various deluxe editions and extras.  For more information, visit Z2 here.
© 2022, Seth "Digital Crates" Barmash. All rights reserved.